Ranchi: Maximizing Property Tax Collecti...
Background Ranchi city is governed by the Municipal Corporation which comes under Ranchi Metropolitan Region. As per provisional reports of ...
Posted on: January 20th, 2022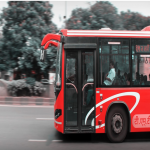 Thane: Intelligent Transport System for ...
Problem/Challenge: As per 2011's census, Thane city has a population of more than 18 lakhs, which is growing steadily. In Thane, mobility is a ...
Posted on: January 20th, 2022