Progress under National Rural Livelihood...
National Rural Livelihoods Mission (NRLM) – Aajeevika – was launched by the Ministry of Rural Development (MoRD), Government of ...
Posted on: November 17th, 2016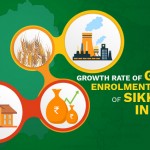 Growth Rate of GDP and Enrolment Ratios ...
There are various indicators of development: economic as well as social. Two of the most important indicators of development are gross ...
Posted on: July 4th, 2016