GDP Growth Rate of India (Constant Price...
The growth rate of Gross Domestic Product (GDP) of India at constant prices (i.e. at the price level of the base year 2004-05) has been fluctuating du ...
Posted on February 4th, 2015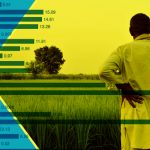 State-wise Farmers Insured under Pradhan...
Government has introduced yield based Pradhan Mantri Fasal Bima Yojana (PMFBY) and weather index based Restructured Weather Based Crop Insurance S ...
Posted on July 25th, 2017