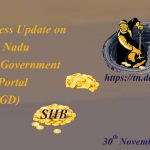 Progress Update of Tamil Nadu Open Gover...
The Open Government Data Portal of Tamil Nadu has been set up at https://tn.data.gov.in to provide collated access to the resources ...
Posted on: December 27th, 2019
Thoothukudi: Smart Street Lighting Syste...
The objective of Thoothukudi Smart City Projects is to promote core infrastructure and give a decent quality of life to its citizens, a clean and ...
Posted on: December 5th, 2019