Pimpri Chinchwad: Identifying training needs of women during Covid-19
January 28, 2022
Introduction
Over 2,500 women lost their husbands, in most cases the primary earning member of their family, due to COVID-19. The unprecedented times caused due to pandemic, destabilised not only the economy but household across India. During the second wave, the Nagarvasti department of Pimpri Chinchwad Municipal Corporation (PCMC) worked along various hospitals in Pimpri Chinchwad to understand the situation of women who lost their husbands due to COVID. Understanding and addressing the immediate and vital need, data for these women was analysed to design a focused and dedicated program to extend the support to the identified group and a partner was identified to effectively implement the same.
Data analysis:
It was identified that to initiate any effort in the direction necessary and extensive data was needed. To address this, an exhaustive questionnaire was designed with more than 15 data points including:
Personal information including name, family member's name, age, Aadhar details, address and contact details; and
Educational information including education and level; and
Occupational Information including current occupation status including self-employment, if there is a need of employment, self-employment and if they are interested in training and potential occupation.
During the first as well as second wave of Covid-2019, data from various hospitals across PCMC was undertaken. The data attempted to capture information of women who lost their husbands due to Covid 2019. The data captured information of 410 women from four places across PCMC, namely Bhosari, Chinchwad, Pimpri and Ramakrushna.
The sample dataset obtained from various hospitals was analysed to ascertain the education levels identified in various data heads like primary, secondary, junior college, higher secondary and graduation and above along with age group from above 35 and below 35.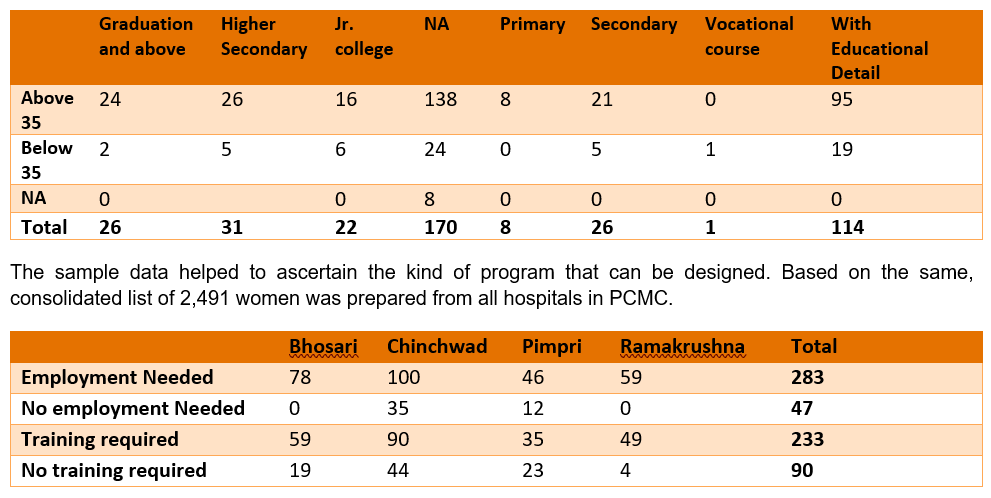 The sample data was analysed to understand the needs of the women. The most common was the need of employment and counselling. The data was utilised to identify a partner and based on the same an orientation session was organised.
PCMC initiative – Umeed Jagar
The Nagarvasti department, PCMC collaborated with Symbiosis Skills and Professional University, Pimpri Chinchwad to design a program to build confidence among the women and generate employability and source of income. The program was intended to train the women and identify their interest area among the identified courses. A set of 3 courses were identified including:
Tailoring course (45 days)
Herbal products and sanitary napkins (45 days),
Beauty services and wellness (30 days)
Till date, a total of three trainings have been imparted so far; of which, 2 batches of tailoring and one of herbal products and sanitary napkins have been organised with 66 beneficiaries. The batches have seen no dropouts.
Further, to support the women during and post training, SSPU is also in the process of starting an initiative – Asmee which translates as Strength. The initiative will be used as a platform to sale the produce and keep Umeed Jagar initiative sustainable. Through this initiative, women would be given opportunity to work from home by delivery of raw material at home and earn upto 300-500 per day.