Odisha Joins Open Government Data Initiative
October 26, 2017
With the launching of open government data portal (https://odisha.data.gov.in) Odisha became the fifth state in India to open its data for free access and use by all stakeholders in machine readable format.
On 17th October 2017 Chief Secretary Shri Aditya Prasad Padhi inaugurated the portal in presence of Shri Ashok K. Meena, IAS, C ommissioner cum Secretary IT, Shri Rudra Narayan Palai, ITS, Spl Secretary, Electronics & IT, Government of Odisha, Smt Nandita Chaudhri, DDG, NIC New Delhi and Smt Alka Mishra, Sr TD & Head, OGD team, NIC , New Delhi.
Smt Nandita Chaudhri, DDG delivering the welcome address on the occasion lauded the steps taken by Government of Odisha and committed wholehearted support from NIC in taking this initiative forward.
Smt Alka Mishra, Sr TD spoke about open government data and its benefits to stakeholders like researchers, academia, common citizen, government departments and startups alike. She highlighted achievements of different states in the open government data sharing and how India ranks among top nations in sharing open data.
Commissioner cum Secretary, Department of Electronics and IT Shri Ashok K. Meena told that government departments generate a lot of data during their functioning and implementation of various developmental schemes. These data are very much useful for governance, learning and awareness. He added that data put in the portal could be downloaded, digitally transferred and used for developing apps for further use. Departments engaged in public service like Health & Family Welfare, Housing & Urban Development, Education, Drinking Water & Sanitation, Women & Child Development have been asked to use this platform to share data in the first phase.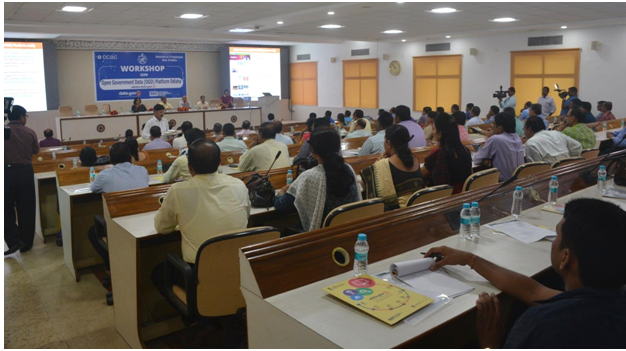 Chief Secretary Shri Aditya Prasad Padhi, IAS said that data is the most valuable resource for the present generation like oil in the 1970s. Artificial Intelligence, machine learning and digital learning are emerging as effective methods for the present and the future. He asked the departments to upload more and more data on the public platform for larger benefit of citizens and civil society. He launched the portal in the occasion.
Press meet  organized to address about the Open data Initiative
The inaugural session was followed by a day long workshop on open government data, which was attended by Secretaries, Chief Data Officers & Data Contributors drawn from all departments.
During the second half of the workshop, Shri Shubhadip Biswas, Sr Analyst, OGD team, demonstrated the work flow of the software. He imparted detailed training to data contributors on how to create catalogues, datasets and publish them. He outlined role specific functions of Chief Data Officers, Data Contributors and PMU. He clarified different queries raised by departmental officers to their satisfaction.
Shri R.N.Palai, Spl Secretary, Electronics and IT gave the vote of thanks at the end of the workshop. He specially praised deliberations by Smt Alka Mishra & Shri Shubhadip. The workshop was jointly organized by NIC, Electronics & IT Department of Govt of Odisha and OCAC.
On 18th October, an internal training programme was organized for NIC officers Chaired by State Coordinator Smt. Nandita Choudhury, DDG at NIC VCR Hall which was attended by all officers including DIOs through VC.
Dr Alka Mishra, Sr TD and Shri D.P. Mishra, TD, NIC OGD team, New Delhi provided necessary guidance for the workshop and launch of the portal at a short notice.
NIC Odisha OGT team including Shri Tapan Prakash Ray, Sr TD, Shri Nihar Ranjan Biswal, TD, Shri Malay Pattanayak, TD, Dr. Ashis Kumar Mahapatra, TD headed by Dr. A. K. Hota, Sr. TD coordinated the workshop. Shri P.K.Pramanik, DDG & SIO Odisha guided the team from time to time.
The event is very well covered by the print and electronic media, some of which linked below.