Nagpur: Optimising city bus operations using data
September 17, 2019
Nagpur is one of the largest cities in central India, and the third largest city in Maharashtra after Mumbai and Pune. As per the 2011 census, the city has a population of 24,05,665. Over the last few decades,Nagpur witnessed an increase in urbanisation, leading to inadequacy of infrastructure provision to cater to the growing population.To address this issue using ICT and transform Nagpur into a technologically advanced city, a robust network (1,015 km wide network infrastructure using Optical Fibre Cable) has been implemented which acts as the backbone of the city, and forms the basis on which all ICT based 'Smart' initiatives are being designed.Also, a City Operations Centre (COC) has been developed and integrated to a common application platform to ensure interoperability, seamless user experience, prompt response, for large scale integration of COC and IOT.
Problems with bus services in the city lead to frequent stopping, road congestion, long journey times and delays in passenger pick-up and drop-off. Other issues include limited off-peak service, unreliable timetables and risk of passenger safety. These can be rectified using a smart transport system.
A smart transport system not only helps to provide real-time information about the bus services i.e. nearby bus stops, upcoming buses, routes and fares, but also helps the Transport Department of the Nagpur Municipal Corporation to ensure the safety of its passengers. The current implemented Smart Transport System shares real-time on-board information of the buses running on city roads, including speed of the bus, emergency breaking, skipped stop, unscheduled stop etc.
Dashboard for Smart Transport
For example, the unscheduled stops information can the authorities gauge if the bus ventured onto an unspecified route, which may pose security issues for the citizens.
Additionally, an Automated Vehicle Locator System (AVLS) with GPS/GPRS functionality is installed in Nagpur city buses to provide information around Scheduled Time of Arrival (STA), Expected Time of Arrival (ETA), display ETA, STA on bus stops and allotted driver duty from central location.
The system is currently implemented in 218 buses, and helps the transport department to design preventive measures to ensure citizens safety.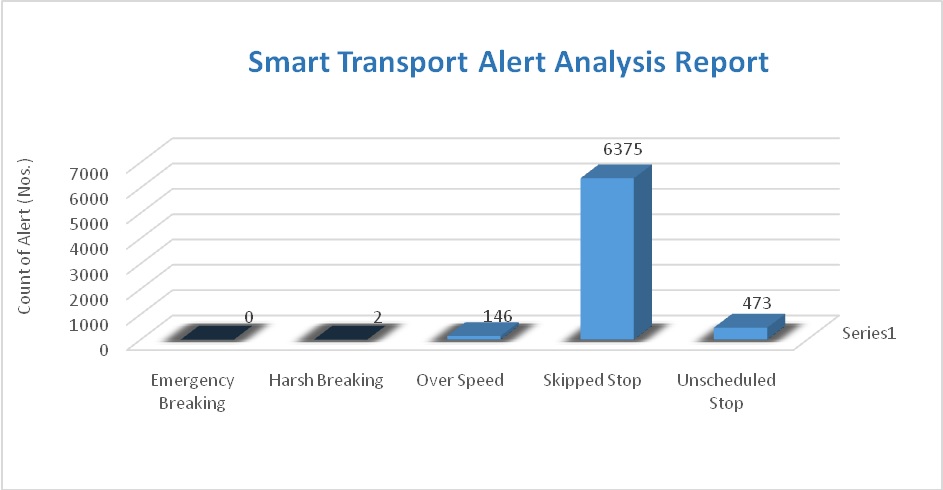 Going forward, more and more data could be collected based on the safety data points to achieve an all-encompassing safety milestone for the city.