Nagpur: Improving public safety using video analytics
September 17, 2019
Nagpur is one of the largest cities in central India, and the third largest city in Maharashtra, after Mumbai and Pune. As per the 2011 census, the city has a population of 24,05,665. Over the last few decades, Nagpur witnessed an increase in urbanisation, leading to inadequacy of infrastructure provision to cater to the growing population.
To address this issue using ICT and transform Nagpur into a technologically advanced city, a robust network (1,015 km wide network infrastructure using Optical Fibre Cable) has been implemented which acts as the backbone of the city, and forms the basis on which all ICT based 'Smart' initiatives are being designed. Also, a City Operations Centre (COC) has been developed and integrated to a common application platform to ensure interoperability, seamless user experience, prompt response, for large scale integration of COC and IOT.
Protecting citizens and ensuring public safety is one of the topmost priority for any Government agency. CCTV based video surveillance is a security enabler to ensure public safety. A City Surveillance System has been implemented (671 junctions with 3,600+ surveillance cameras) in City Police Commissioner's Jurisdiction.
This system is playing a vital role for the administration and citizens of Nagpur in various ways. Specifically, officials of Nagpur police are monitoring CCTV surveillance system from COC for maintaining law and order situation in the city. Video footages and evidences extracted from the surveillance system are providing early leads and directions for the crime investigation. So far, it has been helpful to Nagpur Police in resolving more than 1,134 various types of offences which are shown in following graph.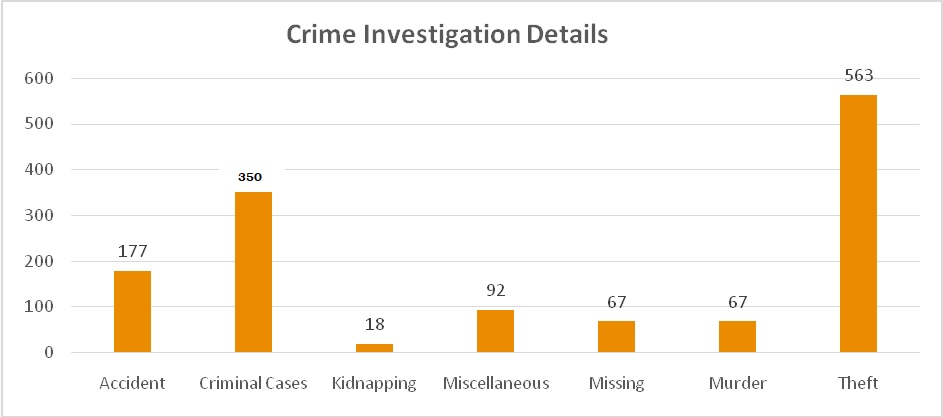 Following cases illustrate how the city surveillance system has been beneficial in capturing the accused people:
| | | |
| --- | --- | --- |
| Murder case by group of people, Borgaon Chowk (2018) | Bag snatching case, Laxmi Bhavan Square (2017) | Serial killer, Lakadgunj PS (2017) |
| The city surveillance system helped in nabbing all the accused people using the facial identification technology. | The system helped in identifying the person as well as the number, and we were able to capture all the accused persons. | The killer was identified from the CCTV footage using the facial identification system. |
City Surveillance Video (Click here)