Literate India: Journey from 1951 to 2011
October 28, 2019

Literacy as per dictionary definition is ability to read and write. The ability to read, write and speak helps us communicate effectively and make sense of the world. Lacking vital literacy skills holds a person back at every stage of their life. As a child they won't be able to succeed at school, as a young adult they will be locked out of the job market, and as a parent they won't be able to support their own child's learning. This inter-generational cycle makes social mobility and a fairer society more difficult.
The development of any nation or region is indicated by the level of education and that too of both genders. That is why 'education for all' is strongly recommended and focused on by the Union Government. India has made a considerable progress in this sector and with all the efforts the literacy rate grew to 74.04% in 2011 from 18% in 1951.

Click here to view the visualization
The results of 2011 census reveal that the literacy rate in the country is 74.04% out of which, 82.14 % are males and 65.46% are females. Kerala retained its position by being on top with a 93.91% literacy rate, closely followed by Lakshadweep – 92.28 % and Mizoram – 91.58%. Bihar with a literacy rate of 63.82 per cent ranks last in the country preceded by Arunachal Pradesh (66.95 per cent) and Rajasthan (67.06 per cent).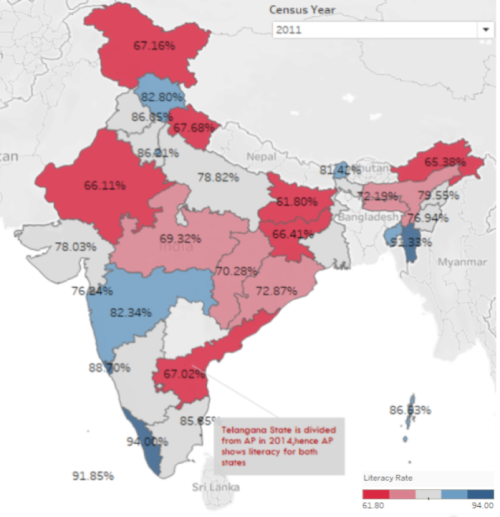 The census of 2011 shows that there has been a substantial increase in the number of literate women; however, there is still a huge gap between male and female literacy rates. Among such figures, there exists a ray of hope as well. According to 2011 census 110 million additional women had become literate as compared to 107 million men which suggests that the number of literate women is increasing.
Female population in India constitutes about 50% of country's human resource however lack of education snatches their chance to be a part of the progress and development of India. This means our pace of progress is less than the required pace. Even if females do not use education to work, total illiteracy has a huge negative impact on our society. There is a dramatic difference in the female literacy rate based on various regions in India. As per 2011 census, Kerala has the highest female literacy rate (92%) whereas Bihar (51.5%) has the lowest female literacy rate in India. States such as Uttar Pradesh (57.18%) and Rajasthan (52.12%) that are the most populated states in India show low levels of female literacy.

For children growing up in this age of technology, it is only looking out for their best of interests to teach them to read. If reading never comes along, then they immediately lose out on over 80% of jobs that could be available to them. However, the census 2011 states adult literacy (20-24 years) to be on higher side for both male (102 million literates) and female (83 million literates) than children between the ages of 7-19 years.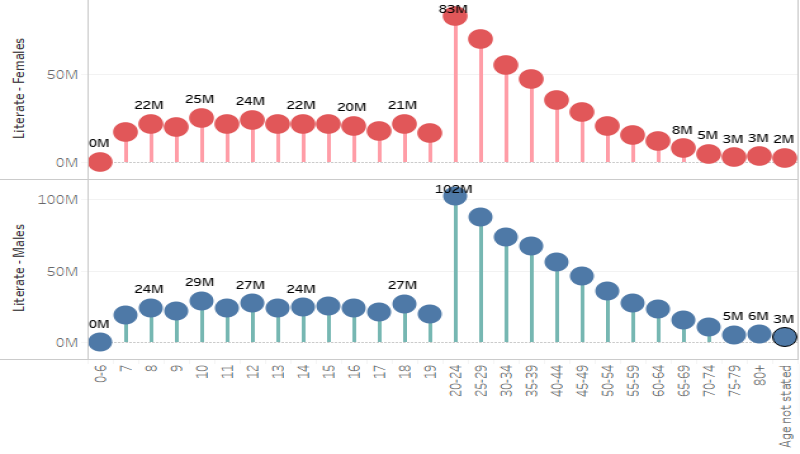 More than one-third of population in India is living below the poverty line. Making primary education free in public schools under RTE (Right to education) ACT helps curb the problem to some extent. Some problems that are indirectly impacts the education of a child are distance of the school from the home, lack of nutrition/food, basic infrastructure like toilets. Schemes such as Midday meal, free books, bicycle, uniform, Swachh Bharat Abhiyan, etc. help in creating better facilities and attract more children to school.
Source: