Gwalior: Improving city maintenance services using data
September 24, 2019
Introduction
Gwalior city receives an estimated 400 citizen complaints per day from multiple sources such as CM Helpline, Swatch City portal, Toll Free Helpline, City Mobile App, etc. Out of these some are already well-established online grievance portals from where complaints are transferred to Gwalior Municipal Corporation. Earlier, it was not an easy task for employees to identify their specific complaints from all portals and it was too difficult for department as well to keep track of the status of each complaint within municipal department. And because there was no common portal available for monitoring it was not possible to identify the gaps and performance of each department, and to know ward-wise areas where corporation needs to work on for better service delivery.
So, there was a need to find a solution to this problem so that all portals and complaints can be managed from a single location, and master reports can be created.
Solution
We have developed a unified complaints management system which collects all complaints from these multiple sources or portals. This is a fully automated process with alerts and notifications. We have developed a BOT (also known as a web robot) which collects all new complaints from these online portals and then stores in our local database. After storing in our local database these complaints are manually assigned to resolution officers by carefully reading the description of each complaint. This work is done by our local complaint processing cell.
This application also provides an interface to register one's complaint and follow it up. This complaint, once registered, is redirected to a specific person/officer of Municipal Corporation for example; a complaint about damaged road will be redirected to the Public Works Department. Once the complaint sent to the respective Ward, the officers can take necessary action.
We use latest mobile app technology to keep informed all municipal staff about their pendency of complaints to be resolved and their past performance of work. There is also an alarm system on the client as well as the server side to indicate that the complaint is not processed.
Real-time Application Reports URL : http://complaints.gwaliormunicipalcorporation.org/MIS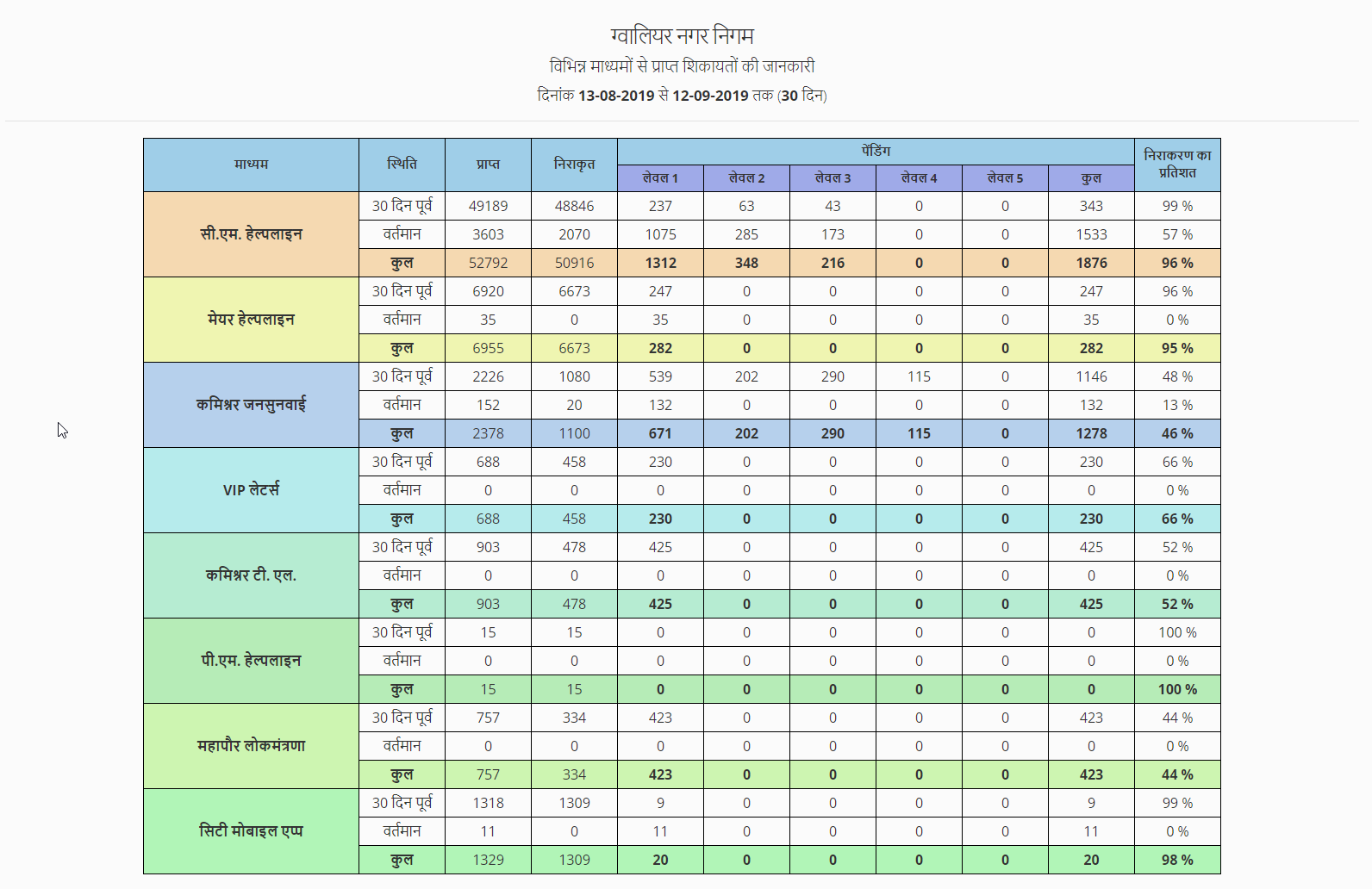 Overall pendency of city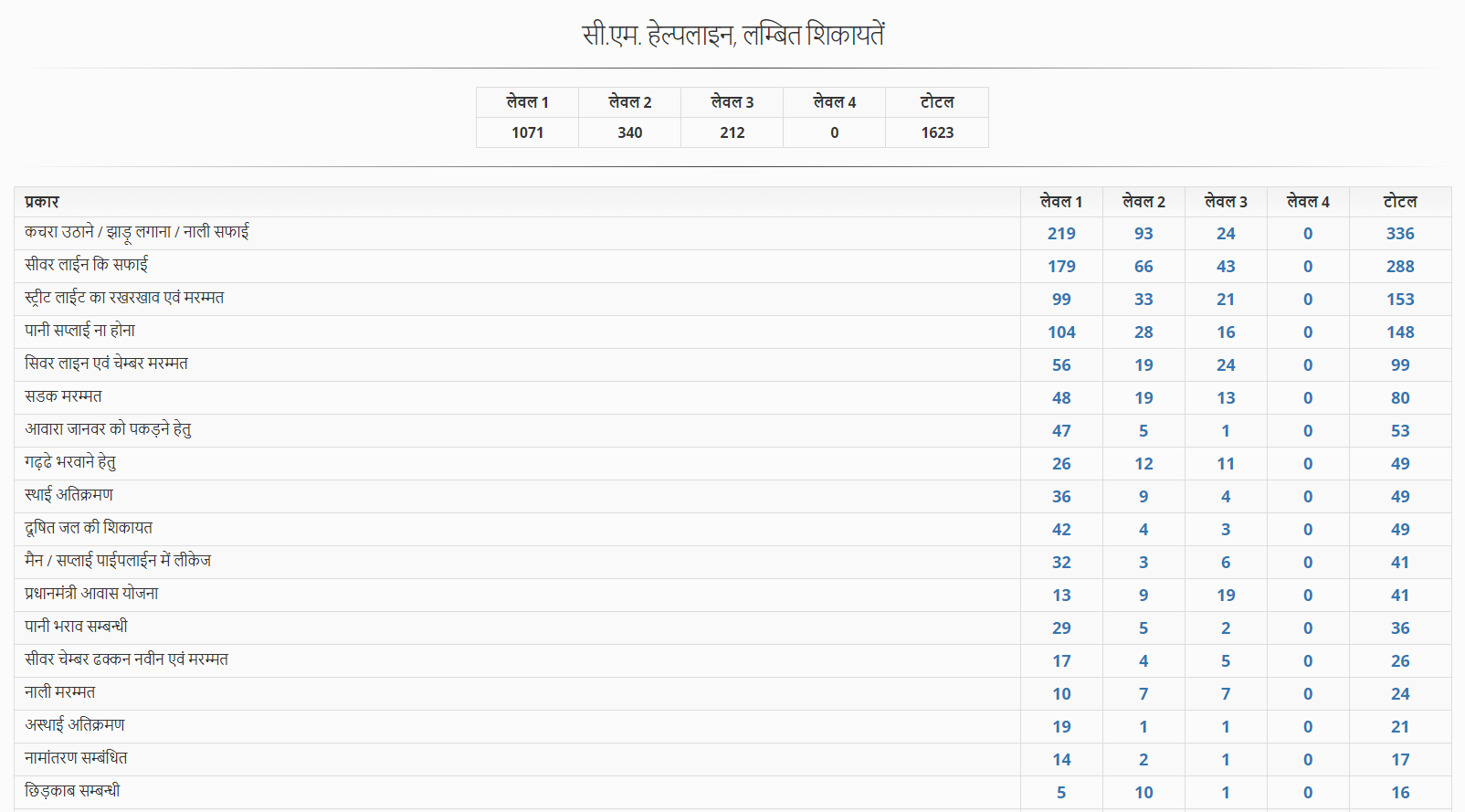 Category wise pending complaints of CM Helpline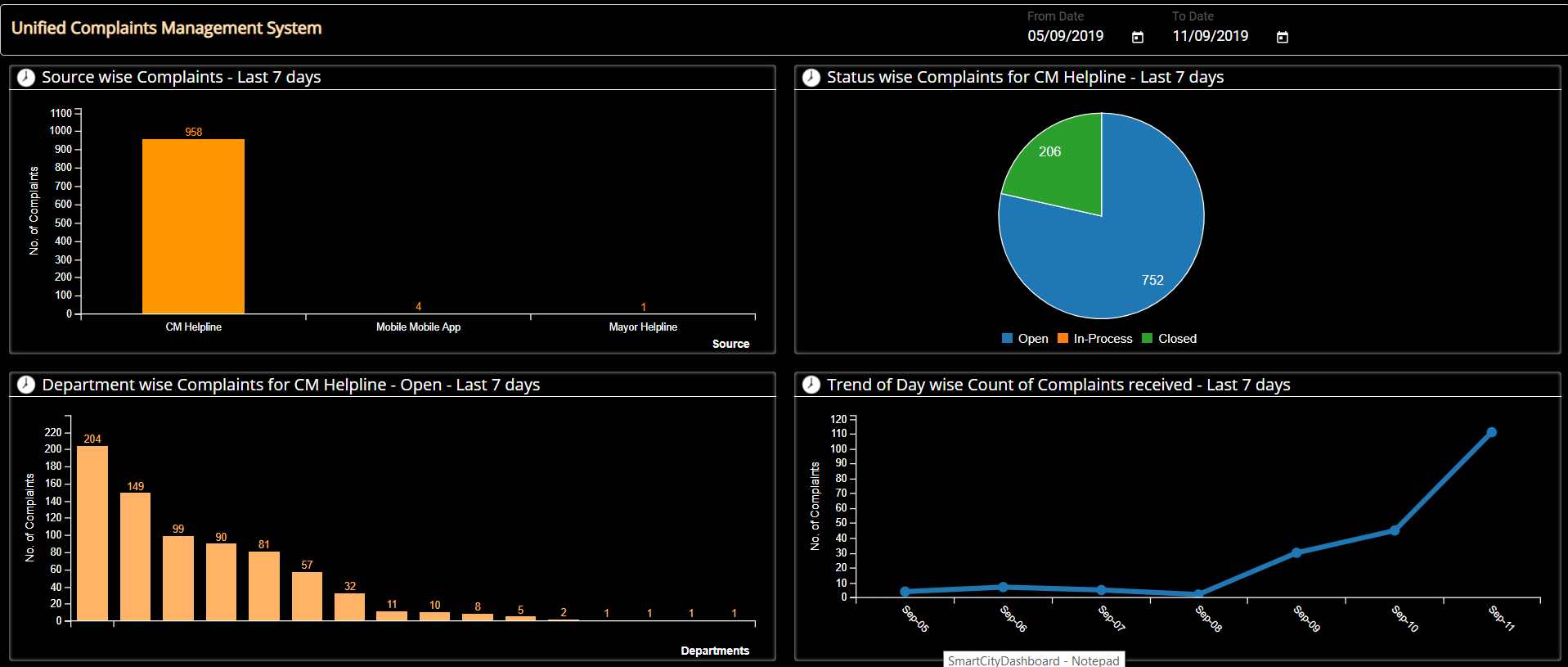 City Dashboard
The City Dashboard allows us to do a deep dive analysis of all the complaints across department, days/months, status, source, wards, sector etc. This helps us in analysing the source of major complaints and helps in quicker resolution.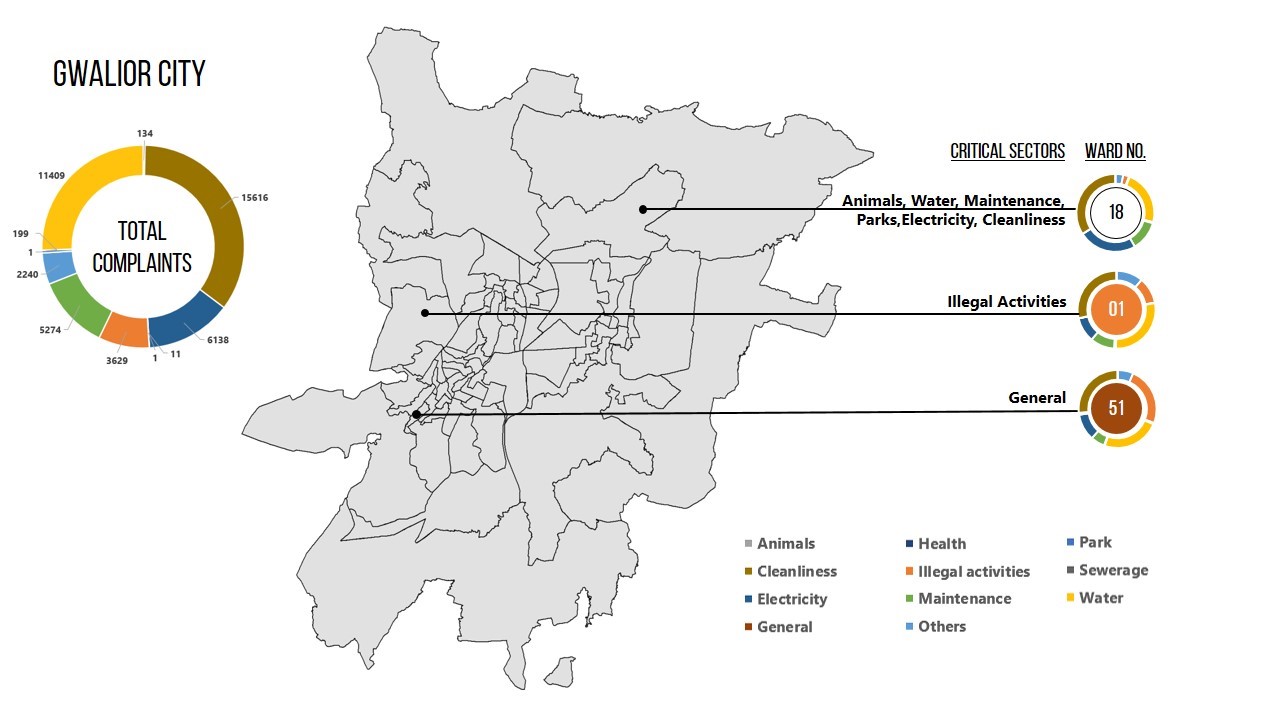 Sector wise complaints for select wards
With the help of data, we were able to identify the key areas where we need to improve. As shown in above figure, it can be seen that in Ward 18 the maximum complaints are related to animals, water, maintenance, parks, electricity and cleanliness. Similarly, Ward 01 received maximum complaints of illegal activities which shows that citizens are doing encroachment activities and department need to take immediate action against it.
Results
The Dashboard has proven to be beneficial for both the corporation as well as the citizens.
A total of 1,27,594 complaints have been processed via this system till now and out of this 1,19,522 have been resolved, i.e. a success rate of 93.67%.
This project makes it easy for the citizen to track the progress of their complaints.
This project provides a direct communication between the common man and the municipal corporation
The system has helped to identify vital areas for service improvement and identify needed improvement in policies and procedures
By considering the suggestions of the citizens and higher authorities we will develop the project with innovative ideas like database management, applications like image views, interaction with the ruling people like MLA's, chairperson for better solutions. The solutions for complaints are messaged to citizens.