Faridabad: Water Logging Monitoring at ICCC
December 31, 2020
Integrated Command and Control Center (ICCC)
Faridabad Smart City Limited (FSCL) has already setup an Integrated Command and Control Center (FSCL) which is running 24×7 and is assisting City police, City administration and Municipal Corporation, Faridabad (MCF) in the areas related to security and safety, traffic enforcements & regulations, water logging and various other civic amenities.
Water Logging Monitoring
FSCL, in coordination with MCF has initiated monitoring of water logging situation in Faridabad through its CCTV cameras installed at different parts of the city. Daily Monitoring of water logging is done at ICCC and accordingly preventive measures are taken by respective authorities.
Parameters of Measurement
We take the following parameters for measurement purpose.
| | |
| --- | --- |
| Parameter | Water Level In (mm) Base on Assumption |
| Minor | 1mm – 10mm |
| Major | 10mm – 50mm |
| Critical | Above 50mm |
Daily Basis Report generated in ICCC Control Room as per above defined parameters:
Daily Log Annexure
Date: 02.08.2020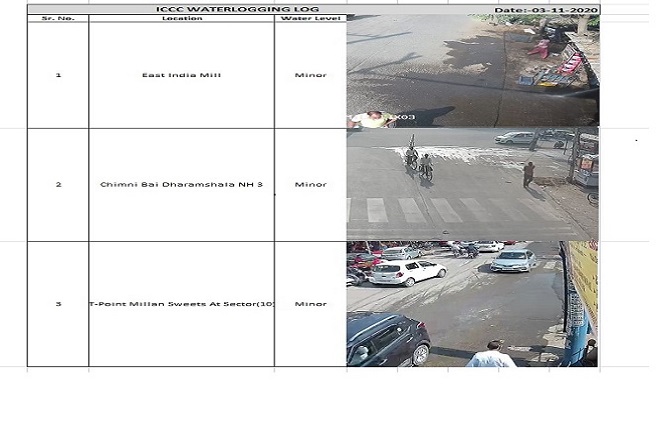 WEEKLY BASIS REPORT From Date 01-10-2020 to 07-10-2020:
Week : 01-10-2020 To 07-10-2020
During Surveillance of water- logging  situation through ICCC control center, it was noticed from date 01-10-202 till  07-10-2020 that the location such as NH 4&5 T Point, EAST INDIA MILL , SANJAY COLONY, MASJID CHOWK are considered to be Minor waterlogged area and Sector 23, electricity board chowk consider major water logged area.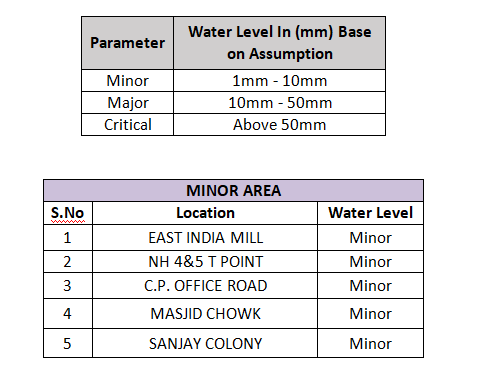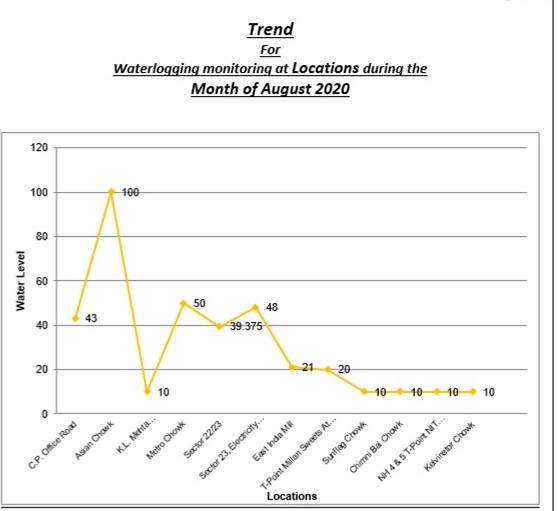 Based on the analysis conducted, it was found that some areas were affected the most. MCF plans to take the necessary action based on the report.
Data generated and collected through daily monitoring of waterlogging areas helps City Administration, Municipal Corporation and Police administration in:
Identification of heavy water logged areas that need immediate action
Identification of accident prone areas due to damaged, waterlogged roads and thereby taking appropriate action for safety and repairing
Identification and related actions for traffic route diversions due to waterlogging
Better coordination between different Departments for taking collective & corrective actions, etc.
This helps in taking immediate actions wherever needed for improving and maintaining the civic amenities in terms of road & drainage infrastructure, and traffic flow for the benefit of the city and citizens at large.