Chandigarh: Improving Road Safety Using Data Analysis
September 27, 2019
In Chandigarh, traffic is major cause of various problems like air pollution, noise pollution, poor health, lack of walkability, etc. which results in a number of injuries and fatalities to the citizens. It thus makes it essential for the city to understand the road accident statistics and device policy interventions.
The city undertook an assessment of data on injuries and fatalities to identify the major causes of accidents (instances) and plan for interventions. It used yearly data (2016–2018) collected from the Office of Deputy Superintendent of Police, Traffic Administration R&D and Road Safety, Traffic Lines, Sector 29 showing the total number of injuries and fatalities that occurred in the city to analyze the number of instances (accidents) that occurred with citizens while on road irrespective of the vehicle being used, as given below: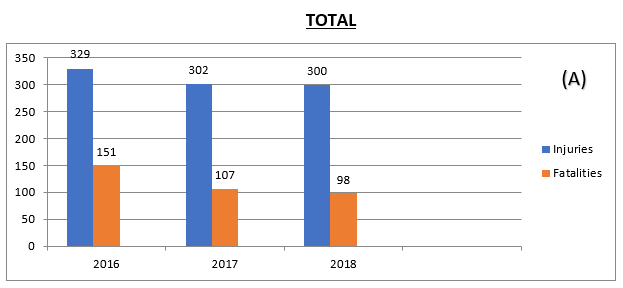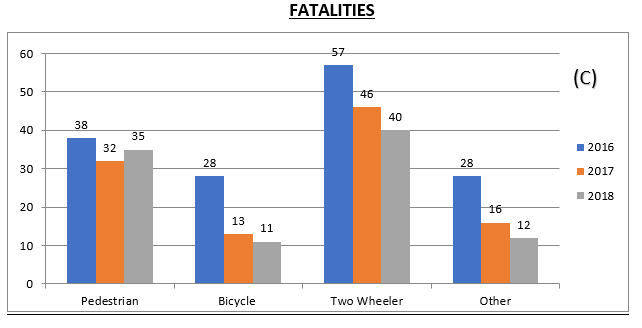 What does the data convey?
The data in Figure A clearly shows that there is a certain downfall in number of injuries and fatalities from the year 2016 to 2018. Total injuries recorded as 329 in 2016 reduced to 300 in 2018 and similarly total fatalities reduced from 151 in 2016 to 98 in 2018.
However, detailed analysis on the basis of mode of transport used by the citizens, highlights that the fall in total number of injuries and fatalities, has been in a very constant and stagnant manner. For e.g. in 2017, injuries by use of other modes of transport like (auto, bus, car, lorry etc.) reduced to 61 from 88 in 2016, but thereafter, in 2018 it again enhanced to 83 from 61. Similarly, in case of fatalities by use of two-wheeler vehicles, a constant downfall can be noticed. Pedestrian fatalities which reduced to 32 in 2017 rose to 35 in 2018.
Suggestions for road safety stemming from the data analysis
It has been observed by the study of provided data that most of the accidents in the city have occurred with involvement of two wheelers, therefore, suggests that there should also be a separate path/road or lane for the two-wheeler vehicles in all over the city. There is need of creating a ring road/by-pass around Chandigarh to prevent the unwanted traffic.
The traffic which is destined beyond Chandigarh should be allowed to by-pass without entering the city. There must be provisions of high capacity mass transport corridors, along with truck corridors and extension of mass transport system to provide wide coverage and transport integration with other modes of transport.
Current initiatives for road safety
Several initiatives have been taken to impart awareness among citizens to follow traffic rules and regulations, about safety helmets, use of cycle tracks, rear-view mirror and no honking.  From time to time Chandigarh Traffic Police conducts an awareness drive about no parking of vehicles near round about, safety helmet to women, cycle track and zebra line. Several traffic Education Programs involving traffic safety, parent/guardian involvement are being conducted by traffic police with support of Chandigarh administration in various schools, colleges and other educational institutions. Lot of drivers has been educated through these campaigns.  In order to bring the mortality rate down, citizens especially with rural background are being made aware about the importance of strict compliance to traffic rules and regulations.
Construction of cycle tracks and pedestrian path has efficiently and effectively helped in reducing traffic congestion and pedestrian conflicts with vehicular traffic. Use of CCTV Surveillance on several light points has also restricted violation of traffic rules to some extent. Measures have been taken to promote cycling among the citizens by encouraging car free day in the city.  In view of the amended provisions of Motor Vehicle Act, the City has a zero-tolerance policy for violation of traffic rules in case of drunken driving and use of mobile while driving.  Strict enforcement of wearing of helmets has been done for motorized and non-motorized two-wheelers.
Conclusion
The analysis has provided the city an insight into the accidents occurring in the city, thus helping it to understand the current situation as well as take initiatives for reducing the same.