Ahmedabad: Tackling the issue of spitting in public places using data
September 24, 2019
Ahmedabad: Tackling the issue of spitting in public places using data
Smart City Ahmedabad Development Limited (SCADL) with its SASA project – Safe and Secure Ahmedabad project – aims to open a new frontier in serving the citizens by using cutting edge technologies with state-of-the-art four storied Integrated Command and Control Centre (ICCC) forming the nerve centre of information and monitoring of Ahmedabad city.
On this front, SCADL and Ahmedabad Municipal Corporation (AMC) identified several use-cases that could be addressed and implemented with nearly no new infrastructure setup required. One problem unique to India is people's habit to spit in public spaces and soil the place with paan stains. This problem is extremely widespread, and completely defaces the look of the city. By their very nature, the stains are very hard to clean; and the extent of the problem just makes it even more impossible. The habit posing a health risk to people around due to its utter defiance of hygiene is also a significant issue. In the context of the Swachh Bharat Mission too, tackling such a ubiquitous issue so ingrained into the Indian psyche should take priority.
Spitting Behaviour problem leads to challenges :
Identification of Violators
Dirty Streets
Habitual Spitters
Requirement of Culture change
Lack of Awareness to cleanliness of city
Safe and Secure Ahmedabad – SASA aims at improving the living standard of citizens, making city safer by using cutting edge technologies with over 30,000 IOTs devices installed in the city which include 50 environment sensors, 1,120 Solid Waste Management vehicles tracked through GPS, 180 free public Wi-Fi spots and over 6,500 surveillance cameras with Automatic Number Plate Recognition and Red-Light Violation Detection facility.
Leveraging use of the same infrastructure, a stop-spitting initiative has been started by AMC. All traffic signs and public places of the city are being examined by as many as 5,000 CCTV cameras installed under the Smart City. CCTV footage being traced to the number of vehicles of those who spit on the road by taking video clips and capturing photographs. Then the memo has been prepared in the predefined format approved by Solid Waste Department of AMC, and fine is imposed.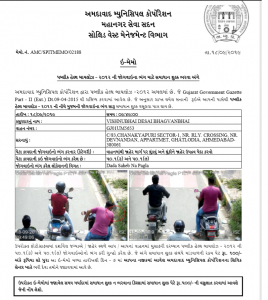 For spitting, 2200 incidents have been captured so far, and offenders are recognized and grouped by vehicle category (two-wheeler, auto, truck, four-wheeler). Similarly, improvements in cleanliness will also be observed as the Stop Spitting Movement catches on. At present, the person is directed to pay penalty at the nearest city civic centre of AMC and soonpeople who receive a memo against spitting can pay the penalty online by AMC link details which going to be provided on the memo.
Collection has been started at civic centre and defaulters to payment liable to pay penalty directly to dedicated team of SWM by having door-to-door collection zone-wise and ward-wise. Initial fine is Rs. 100 as per the Public Health Bylaws, 2012; followed by Rs. 500 penalties on late payment.
In the future, BRTS/AMTS stops, civic centres, AMC Offices, another major public areas in the city shall also be monitored for spitters. The fine is to be paid at civic centres, but online functionality will soon be implemented.
Outcomes and Impacts
For spitting, 2,200 incidents have been captured so far, and offenders are recognized and grouped by vehicle category (two-wheeler, auto, truck, four-wheeler). Subsequently, the discipline towards cleanliness by citizen has been improved in city.
Currently, the infrastructure covers the main touch points such as BRTS bus stops and main traffic junctions. The network can be expanded to more locations on poles and support infrastructure all through the city in a phased manner.
Way Forward
A system could be built and trained with the images of the individuals spitting in the public places so that the system could identify an individual spitting in the public places and map the number plate of the vehicle. Similar process could be implemented for various types of offences and the system could be trained to read the number plate in case of those offences. Human involvement could be reduced in such instances and the system would be able to widely monitor for these types of offences.
Going forward, vehicle history could be kept in the repositories and frequent offenders could be mapped. In doing so, the city administration would have an idea about the frequent offenders.