Ahmedabad: Improving energy efficiency using Smart Streetlights
September 18, 2019
Cities are responsible for 2/3 of global energy consumption and the associated GHG emissions. Therefore, ULBs/Smart Cities are now focusing on addressing the high consumption patterns, attempting to provide better lifestyle to its citizens while keeping consumption low.
Energy Efficiency: Smart Streetlights
Problem Statement
In Ahmedabad, street lights were mostly the high-pressure sodium lamps or halide bulbs.
Energy Demands of 326 million units with total cost of Rs. 221 crores (32 Crores SVL)
The implementation was unplanned and did not meet area-wise lighting needs
Very often, noticed that street lights stay ON well past sunrise.
Need for way to prevent wastage of electricity
Leaving large areas without adequate lighting
Poor maintenance of street lights
Apart from these operational inefficiencies the technology itself was major concern
Sodium vapor lights are highly energy inefficient, are prone to failures, have a very short life and also emits CO2
Intensity was also not in user control
A one-size-fits-all approach to street lighting resulted in inefficient deployment of power resources and ends up in wasteful use of electricity that could have been better utilized elsewhere
Solution
In recent years, the LED technology has been a revolutionary invention and through this, street light witnessed a paradigm shift. As they are believed to save power by almost 50%, it has changed the energy consumption pattern of street lights and has impacted longevity of the lamps. The Ministry of Power set up a super energy service company (super-ESCO) that transformed the LED market in India by lowering LED costs through its bulk procurement program and setting standards for ESCO procurement.
Ahmedabad Intended to convert approx 1.5 lakhs existing conventional lights in to LED lights in phase manner under energy efficiency program. Purchase done from EESL.
Smart City Ahmedabad Development Ltd has started the Energy Efficiency Cell (EE Cell) to address energy conservation issues and thereby minimizing the ever-increasing energy consumption by all possible ways
New Streetlight pole installation is done as per national lighting code (NLC)
Under the PAN-city domain of Smart City initiative, 6000 smart lights have been installed at various location replacing age old Sodium Vapor lamps. These smart lights are equipped with an external controller which can be On/Off/Dim as per the command given and which can log all the critical parameters of the street light fixture Connected to it. The utility of these new lights can be realized everywhere, and the process of putting them into place is also straightforward.
Newer lights are more luminescent, and they lose their strength with time, effectively reducing their useful life. Comparatively, the LED offers 50-80% energy saving over Sodium Vapor Lamps, has a life of over 50,000 hours – working 10 hours a day for 13 years which is more than 5-10 times the life of a Sodium Vapour Lamp or mercury lamp and offers far higher luminosity over it. A switchover to LED is not only financially favourable but also environmentally beneficial.
Each light is equipped with a photocell, which allows automatic switch on & off depending on the ambient lighting conditions, thereby eliminating the day time energy consumption which many a times is prevalent in city infrastructure
Smart lighting Automatically dim and schedule the lights Foreg: For e.g. 100% output from 7 to 11 pm, 80% power output from 11 pm to 1 am, 50% power output from 1 am to 4 am and again 100% output from 4 am to 6 am
User configurable ON/OFF/DIM schedules programmed on a daily / monthly / special events basis
Alarm Dashboard- Provide alerts & auto notifications by identifying and understanding each lamp failure immediately along with reason for failure
The maintenance team knows upfront which parts they need to carry
Ensures High Burning Ratio- Proactive fault redressal by improving maintenance effectiveness
Eliminates manual night patrolling for fault finding and thus significant saving on maintenance and repair costs
Monitor & meter Power Consumption, Burn Hours, Power Factor, Current & several other parameters at an individual light point level and allows to manage the city lighting dynamically, interactively and flexibly
Voltage & Other Trends to monitor the infrastructure & health of city street lights
Asset Management with Prioritization of Roads in terms of VVIP & VIP roads and generate alarms with different levels of severity
Smart Monitoring through ICCC
All street lights are now connected to CCC and monitored at ICCC.
In first 30 mins, each field engineer gets an alert and status on his mobile phone to check specific points for breakdown or repair
CCC gets an alert for breakdown andthe repair requirements
Citizens can also lodge complaint via SCADL's Citizen grievance redressal system
Each complaint is resolved within 48 hours
Citizens get an update and status of complaint via unique token number
The system provides various reports including device status (On/Off/Dim/Communication faults) location-wise, zone-wise and ward-wise.
In case of a situation, data also provides status of on/off lights in day time for particular hrs.
System provides data if pole tilted at certain location and alerts occurs to concern field engineer which saves time to rectify it on field.
The additional aspect of data is that it also provides information of energy consumption including if a particular light takes more than specified voltage power consumption then it reflects through report and corrective actions took place based on power factor.
Each smart light works on Astro timing and based on drivers and sensors setup to smart lights it leads to automatic on and off depending upon sunshine and sunset time.
Based on reports generated the data analyst reports the status to concern officials and decision-making take place with corrective actions.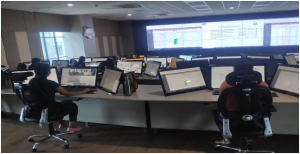 Output/Outcomes & Impacts
LED lights are 40-60% more energy efficient than traditional lighting technologies
With implementation of 1,45,404 LEDs, AMC have saved 2.78 Cr units of energy (cost saving Rs 16.5 Cr)
LEDs Provided better quality lighting, lower energy consumption, and reduced 14000 tons of CO2 emissions
Brighter Roads for increased public safety and new smart look by decorative brackets. Lux Levels increased by 25% and that too with significant decrease in power consumption.
Adjusting light brightness level in areas where more accidents or criminal activities observed
Long Lifespan: Burned out street lights are a nuisance when driving or walking at night. Due to LED streetlighting's long lifespan, city won't have to worry about changing out bad bulbs.
Recent studies have shown that due to the installation of bright, white LED streetlighting, crime rates have lowered. With less dark, un-illuminated pockets, people feel, and are, safer walking home late at night in comparison to when walking under traditional streetlighting.
Other streetlight types produce light pollution in the surrounding area, but the way LED street lights work means less of pollution
Way Forward
Augmentation of 16000 Street lights as Smart Lights
AMC has targeted to achieve more than 50% of its entire energy requirement to be fulfilled through renewal energy by 2022
The biggest advantage of using LED lights is it can be used anywhere in the city:
Entire city's sodium Vapour lamps can be converted into LED lightings
Many industries which operates 24*7 uses high amount of electricity, LED lights lights can help such industries in reducing their electricity bills
All the bus stations and in future metro stations can be converted into LED lightings
Public Gardens and Libraries
Schools and Colleges
Stadiums and Grounds
Therefore, the utility of these new lights can be realized everywhere, and the process of putting them into place is also straightforward. The phases going to be replicated and readapted to regions across the city. The feasibility of implementation is also unproblematic, for the incurred costs are offset by long term operational savings. The costs have declined dramatically, more and more households, industries are installing LED which and they will save money over the long term.