Agra: Lockdown Monitoring with AI-enabled Cameras
August 10, 2020
The city of Agra recorded its first COVID-19 case in late February. Agra was also the first identified cluster in India and continues to have one of the highest district-wise caseloads. Despite this fact and guidelines by the government, some citizens were found to be gathering in groups and violating social distancing norms. The city, therefore, adopted smart solutions to ensure that it's 17,54,068 residents complied with the distancing norms.
Solution: AI-enabled CCTV cameras
Agra Smart City came up with a solution to detect people gathering in groups and close proximity with AI-based video analytics, using surveillance cameras installed at different locations across the city. For the first few days, Artificial Intelligence (AI) and deep learning-based video analytics were applied to the cameras at a few junctions along with collection of data for machine learning (ML) training purpose. Some of the citizens were found violating the government norms of Social Distancing by gathering in groups, stressing on the need for stricter monitoring.
After a few days of observation, AI/ML based video analytics were applied on more than 65 junctions with 81 cameras and improved accuracy.
The analytics detected social distancing violations and classified it into two categories:
– Group gathering
– Close proximity
The system then generated alerts with respect to specific junctions. The data was analysed via a web interface deployed to populate the data with specific parameters to see alerts on live view as well as history of those alerts. Using alerts generated from AI analytics data, a heatmap was generated to see affected areas which had more incidents of violation of group gathering and close proximity. Using the dashboard and the live view, officials were able to identify the areas where violations occurred, and prompt actions were taken.
To make the information relay more efficient, a mobile application was introduced wherein Police officials received alerts on their mobile. Responsible citizens could also register any violation taking place in their neighbourhood through this app.
The alerts were then used by Municipal Corporations and the Police Department to identify the areas to strictly monitor and also to take prompt actions while patrolling the city.
Sample Violation Data
Violation record on May 11 2020.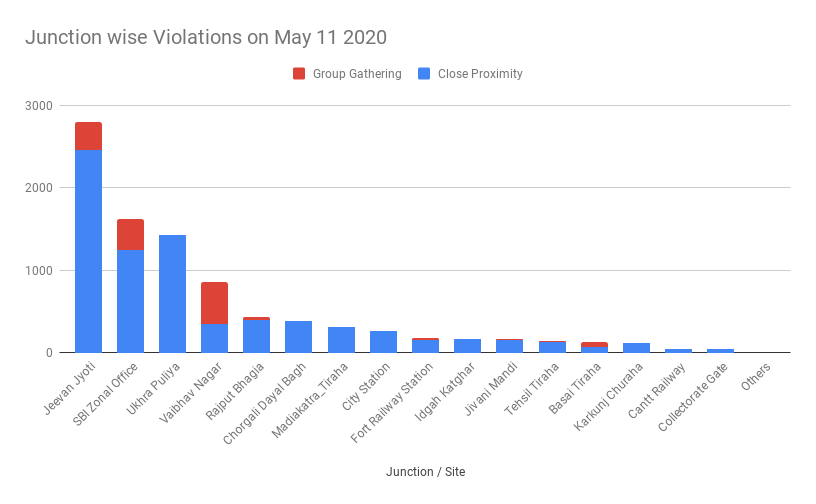 Out of the 65 junctions being monitored, it was observed from the data that 100% of the violations came from 16 junctions, while more than 70% of the violations came from just 4 junctions. The Police Department accordingly sent teams for action, resulting in better management of time and manpower.
Category wise violations recorded for the month of April 2020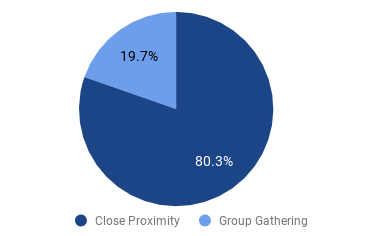 | | |
| --- | --- |
| Group Gathering | 30130 |
| Close Proximity | 123142 |
| Total | 153272 |
Benefits
 The city was armed with the following data for better administration:
– Heatmap to identify highly violated areas.
–  Real-time alerts on mobile application as well as web UI to perform necessary actions with image evidence.
– Report on a daily basis to analyse the group gathering and close proximity counts.
Conclusion
Even though the nation is in the process of unlock, social distancing has to be followed till the pandemic is in control. The AI cameras are proving to be an asset for these times. These systems can also be used in the event of a curfew imposed in the future. These intelligent surveillance systems also have the potential of quick and efficient information processing in case of robberies and other crimes in the city.