Tiruppur: Optimising energy consumption with smart lighting
September 23, 2019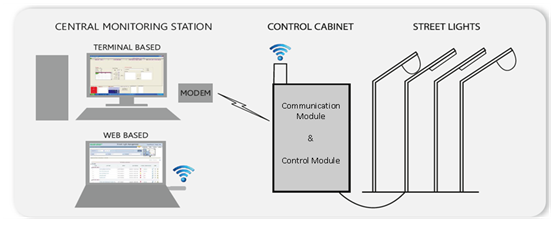 Tiruppur Municipal Corporation having extent area of 159.34 sq km with length of streets as 1,332.55 km, contains 31,950 street lights. Energy saving technique has been implemented in this corporation under PPP mode since from 2014. This enables ESM equipment's, 2,387 controllers through online Centralized Control Monitoring Station (CCMS) to perform ON and OFF operations, save energy and acquire real time data instantaneously. At present, there are only 618 non-burning street lights in the city (only 1.95%). The complaints received from on line portal, complaint register, toll free number and manual record. The non- burning defects rectified within stipulated time of 48 hours and feedback report send to public as a message from the portal.
Current scenario
| | | | | |
| --- | --- | --- | --- | --- |
| Street Lights | LED Lamps | Conventional Lamps | Energy Efficient Lamps | ESM Equipment Installed |
| 31,950 | 20,466 | 6,604 | 4,880 | 2,387 |
Tiruppur Municipal Corporation now contains 31,950 street lights. In which 15,074 are Fluorescent Tube Light (FTL) converted into LED lamps, 4,372 conventional lamps converted into Energy efficient lamps i.e. 250 High Pressure Sodium Vapour (HPSV) and High Pressure Mercury Vapour Lamp (HPMVL) Lamps and 5,392 LED Lamps provided under various schemes.
Overview of smart street light
The project implemented to the entire city of Tiruppur City Municipal Corporation. All the components such as Service connections, a Voltage/Streetlight Controller with Energy meter is being installed as Energy Saving Measures. The Energy consumption recorded by the AMR equipment and the instantaneous real time data fetched from the ESM equipment connected with GSM technology and the performing the ON and OFF operation of the street lights with pre-set able time. The data collected includes Street Light Control (SLC) and Visible Light Communication (VLC) service connection ON and OFF, energy consumption, battery load, ward wise service connections, any error, etc. This data is visible in the Central Control & Monitoring Centre (CCMC) and can be monitored through www.tnsmartlights.com.
Live view of street light present status
Live view of service connection locations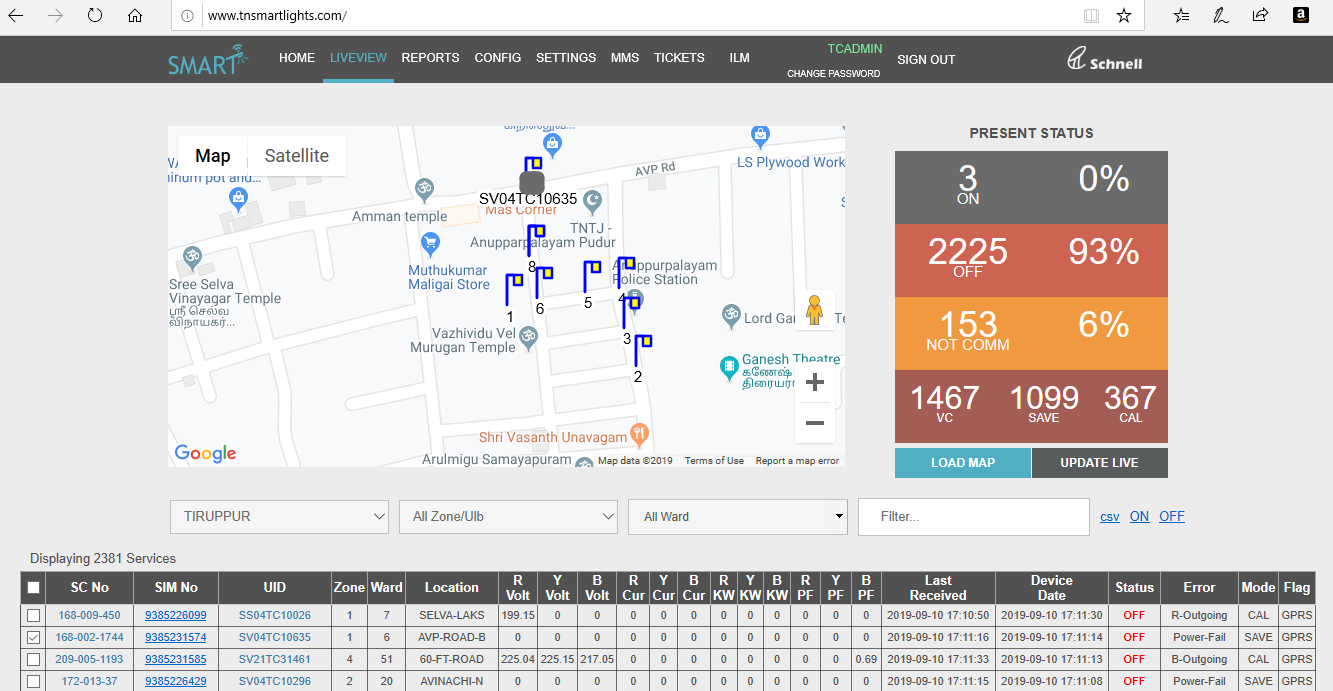 Key components of the system include:
Voltage/Street Light Controllers: State of the art GSM/ GPRS technology ON/OFF using contactors with GPS/Time basis lighting levels conforming to Indian standards reduces operational and maintenance cost, detection of energy theft or leakage, wireless ON/OFF control and scheduling ON/OFF.
Individual Lamp Monitoring Device: ILM is an efficient solution for real time monitoring of street lights on an individual basis for error free operation and improved energy savings. ILM system provides live status of the critical parameters through RF routing and helps extend the working life of the lamps.
Technology: Both GPRS & GSM based remote streetlight monitoring system with capacity for self-protection from short-voltage and anti-theft alert. •         Automatic Meter reading (AMR) ensures the energy level on real time data.
Live Data Collection: Voltage, current, PF, Number of glowing hours, active & apparent power cumulative KWH.
Alert messages: High/Low voltage, Current, MCB trip, theft alerts, contactor failure, NO output supply and group of lights.
After implementation of ESCO project
| | | | |
| --- | --- | --- | --- |
|   | Before ESCO | After ESCO | Energy Reduction |
| Connected load (2013-2014) | 2.478 MW | 1.750 MW | 0.728 |
Implementation of street light project savings
| | | | |
| --- | --- | --- | --- |
| Year | Total Energy Savings in Units | Total Energy Savings in Rs | Energy Saving (%) |
| 2017-2018 | 37,28,374 Units/Year | 2.36 Cr. | 43.53% |
| 2018-2019 | 40,92,819 Units/Year | 2.59 Cr. | 42.88% |
Benefits
Facility to perform ON/OFF operation automatically.
During the off-peak load (after 11 pm) the voltage level is higher compared to the required standard and traffic is also low. Hence, the intensity of lumens level is reduced to the optimum level; the voltage controllers are used to regulate the dimming techniques, thereby reducing the energy consumption up to 30% and increases lamp life for HPSV lamps resulting in reduced O&M cost.
The error log report is generated daily, based on errors occurring in the field device, and instantaneous alerts are sent to the field level officers.
Instantaneous alert SMS for all electrical breakdowns are received at the CCMC and feedback is sent to the field personnel.
Automatic continuous monitoring identifies power theft and illegal tapping.
All the street light systems connected through geo tagging by GIS enhancing the asset management systems for streetlights shall be set-up such that the maintenance history of each street lamp shall be recorded.
On-load taps changing voltage controller eliminate re-ignition of lights during tapping.
Instant alerts and protection devices prevent low power factor, high current, trip conditions, lamp failures, voltage fluctuations and other electrical parameters.
Eco-friendly: saving of energy leads to reduce the carbon emissions.