Tiruchirappalli: Energy Efficiency in Street Lighting through PPP Model
November 4, 2019
Overview
Tiruchirappalli is the fourth largest Municipal Corporation in Tamil Nadu. The city was illuminated with 39,173 Streetlights, out of which LED comprises of about 78.36%, sodium vapor lamp (SVL) of about 18.85% and the other luminaries of about 2.79%. Out of connected load 2.71 MW, the energy consumption of these LED and SVL streetlights were about 97.2% of the total power consumption.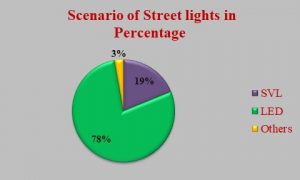 During the year April 2014, an initiative had been undertaken by the City Corporation, on Public Private Partnership (PPP) mode, to replace all the conventional FTL streetlights by high efficacy luminaries, reassess the pole spacing and pole locations, and thereby providing better illumination and improving public safety on the streets and roads, apart from the energy savings.
Live View – Switch ON condition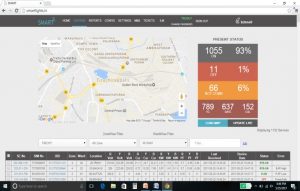 Home Page – To View burning % , saving % & Complaints Rectified details
Complaints Rectified details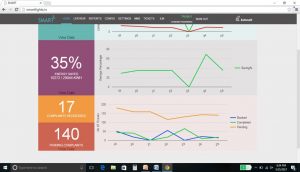 Geographic Information System Mapping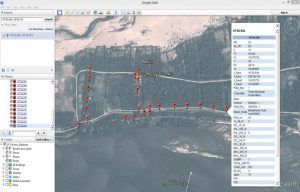 Results & Benefits
The effective implementation of this Project has helped the City Corporation to achieve following:
Non-burning rate has been reduced from 5-12% to 2-4% .
Total 27,915 Nos. of 40W FTL has been converted to 20W LED.
43% of savings in Energy consumption and 29% of savings in O&M has been achieved
The process of Switching on and off light is being done automatically without any human intervention. All the lights are switched on at scheduled time.
There is low power consumption resulting in reduction of financial liability towards EB.
There is no need for engagement of more manpower, and all of them have been diverted and re-deployed in other municipal serving areas.
The cost of operation and maintenance of streetlight is comparatively low.
All the equipments and streetlight fittings are fitted with anti-theft alarm so as to prevent loss of equipments.
| | | |
| --- | --- | --- |
| S.No | Year | Consumption units in Lakhs Per year |
|  1 | 2014-15 | 142.00 |
|  2 | 2015-16 | 122.22 |
| 3 | 2016-17 | 114.15 |
| 4 | 2017-18 | 114.55 |
| 5 | 2018-19 | 116.78 |
| 5 | 2019-20 | 71.63 |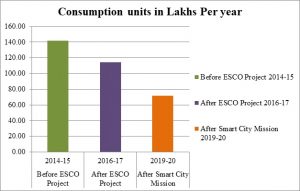 Smart City Mission
Tiruchirappalli City Corporation is undergoing further improvement in the streetlight system under the Smart City Mission. Accordingly, it is proposed to replace the existing SVL, CFL and Metal Halide Lamps. Detailed Project Report has been prepared to replace 5,609 Nos. of SV Lamps, CFL Lamps and Metal Halide Lamps to be converted into 20/40/90/200 Watt LED Lamps and 2,655 of 250W SV Lamp are to be replaced of 120 Watts LED Lamps for MS Tubular poles in Main road. In total 8,264 Lamps to be converted into LED in the Smart City ABD area. Provision has also been given to newly provide 816 90W LED Lamps.
Totally 9,080 LED lamps will be installed under this mission. We have already achieved 43% of energy savings in annual energy consumption in Tiruchirappalli City Corporation after conversion of LED lamps in Smart City mission. The savings worth 60% in annual energy consumption for street lights will be achieved. So a total of Rs.327.97 Lakhs savings in CC charges per annum.