Thoothukudi: Smart Street Lighting System for Energy Savings
December 5, 2019
The objective of Thoothukudi Smart City Projects is to promote core infrastructure and give a decent quality of life to its citizens, a clean and sustainable environment and application of 'Smart' Solutions. As part of Smart City Project, Thoothukudi Corporation had initiated conversion of existing conventional lighting systems into Energy Efficient LED Lighting System with Smart Solutions for reduction in Energy Consumption 50% to 60%.
Challenge
Although different corporations use different street lighting systems and have a different approach to their management, there is a range of problems that is common for all of them:
The first is the high energy consumption. Every year the corporation spends millions of kWh on street lighting through operation, maintenance and replacements. High energy consumption in turn translates into a high level of noxious emissions to the atmosphere.
Secondly, there are difficulties related to the maintenance of the system. How does the lighting network operator find out that a certain lamp or a component of a street-light is not working and needs to be repaired or replaced?
Third is the problem related to the billing of the street lighting energy consumption. Another name for street lighting is "unmetered load" – the bills the corporation needs to pay are not precise and are based on calculations (parameterized consumption vs working hours).
Although the corporations have a complaint portal for grievance redressal, such information does not reach the dispatcher immediately leading to a delay in repairs. In addition, all these solutions are isolated and fragmented and treat each problem separately and not the system as a whole.
Solution
Thoothukudi City Municipal Corporation had proposed to conduct an Investment Grade Audit (IGA) of Street Lighting System for implementing Energy Saving Measures in the corporation. An Investment Grade Audit Study was done through a web-based online measurement carried out on street lighting in Thoothukudi Corporation for a period of 30 days. This study has resulted in the identification of Potential Energy Conservation Measures in Street Lighting. The Energy Audit study involved collection of Primary Data at the Field level through the Thoothukudi Corporation Office and online measurement of individual service connections for a night about 11.5 hours.
For street lighting audit, the data relating to:
Number of Lamps (all categories) installed in the Corporation
Rating of Lamps
Power Consumption by on line measurement for 11.5 hrs (Actual & Recorded by EB)
Number of Non-Burning Lamps
Instantaneous Power Details (V, A, PF, kW, kVA)
Lux Levels at Select Locations
Annual Hours of Burning
Monthly Electricity Bills (Financial Year 2018-19) have been collected and used in the analysis
The following are available street light sources as on date:
Total No. of Switches            :          868 Nos
Total No. of Feeders 1 Ph     :          844 Nos
Total No. of Feeders 3 Ph     :          24 Nos
Total No. of Street Lights     :          15857
IGA recommended that city should install GSM/cloud-based remote-monitoring and control smart meter unit in street lighting switching points to save energy. This system will decrease the non-burning quantity effective monitoring and reduction of load during non-peak/during late night hours.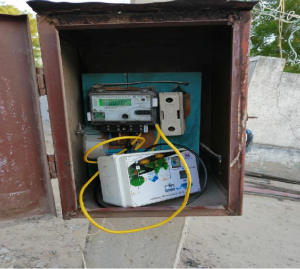 Investment Grade Energy Audit of Street Light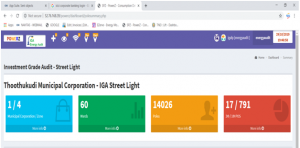 IGA – Pole Summary Dashboard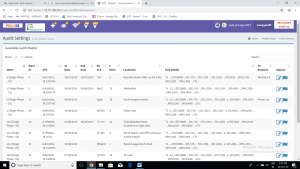 IGA Dashboard – Audit View
Thoothukudi Corporation then proposed to implement Smart Street Lighting System for the entire corporation through which enormous savings shall be achieved in its operational expenses. Switching from halogen to LED luminaires can help achieve that goal by delivering immediate savings of 50-60% through reduced energy use. Moreover, installing smart LEDs can generate an additional 10-20% savings by adjusting output to ambient light levels, dimming or brightening as needed. Smart lighting that optimizes dimming, on/off programming, or motion activation can increase cost savings over simple smart LED luminaires.
System Configuration:
In-built astronomical clock-based timer along with relay contactors
Can be switched on/off from remote location from a mobile phone or a computer
Dimming of lights also possible if there is a suitable driver unit
Daily, weekly and monthly reports can be generated for effective monitoring and control
E-Mail, SMS alerts can be generated from this system on daily basis
Sensor for control unit door opening.
Results and Benefits
By converting to smart LED Street lights as per the categories of roads, Corporation was able to realize energy savings. A total of 19 controllers and 937 smart new LED street lights were implemented in three major trunk roads of this city across 13.8 Km at Ettayapuram road, Palayamkottai road and Thiruchendur road in Thoothukudi to support automated lighting, sensing and motion detection with a total cost Rs 5.75 Crores. With Smart Street Lighting, Corporation can predict lamp failures using data collected, such as the number of hours the light has operated and the status of a light fixture. Motion sensors and cameras can also provide information on the best time to schedule maintenance. Moreover, in these areas road transport style has changed with availability of enough lighting facility and has led to reduction in accidents and improved safety.
Way Forward
Thoothukudi Corporation is now scaling up the energy efficient street Lighting with Smart Solution for its entire system. This shall make the corporation smarter and save huge amount of energy spent on Street Lighting.
                    GPS mapping of street light smart feeder pillar proposed to be installed