Thane: Effective management of city services using ICCC
February 3, 2022
Problem/Challenge:
Thane City faced multiple challenges prior to the implementation of the Integrated Command and Control Centre (ICCC) with respect to incident management, criminal activities, public protection, policing, as well as uninformed and ineffective decision making. Due to the unavailability of a centralised surveillance system, there were some gaps in security and citizens were not able to make complete use of public spaces especially during the night.
Also, with the onset of COVID-19 pandemic it became crucial for the city officials to monitor and manage the city's covid situation across different parameters such as active/discharge patients, hotspots in the city, bed availability, etc. Unavailability of this important information to the citizens was also seen a big challenge.
Some of the major problems faced by Thane city revolved around the below mentioned aspects:
1. City Utilities and Civic Services: Surveillance, Environment, COVID updates
2. City Mobility Services: Transit Management (Connectivity), Traffic Management (Accessibility), City Parking Solutions
3. Safety and Security
4. Crisis Management
Solution obtained:
Considering the fast growth of the city and increasing demands and expectations of citizens from the city-government, Thane Municipal Corporation (TMC) and Thane Smart City Limited (TSCL) planned the establishment of an Integrated Command and Control Centre (ICCC) to serve citizens in an effective manner. The ICCC gives a bird's eye view to the city officials to tackle several issues using the enormous amount of data (from COVID-19 management to live CCTV cameras feed) that the ICCC captures and displays in real-time. The Static and Dynamic Data is used for decision making, security and safety management, crisis management, etc.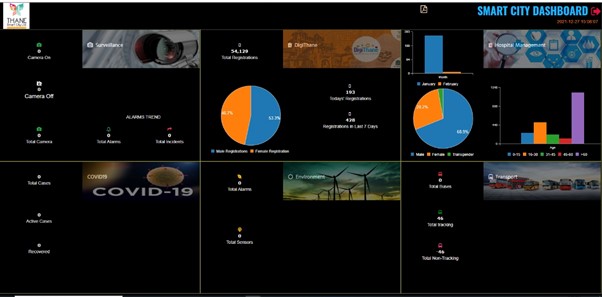 Figure 1: Overall City Dashboard
There are several solutions that have been accomplished with the efficient usage of data in ICCC, some of which are mentioned below:
1. City Utilities and Civic Services: These primarily include civic services provided by the Thane city's ICCC to cater to needs of the city officials and citizens in general. The ICCC integrates & monitors these services at its facility to ensure minimal disruption in the services and timely response leading to better service delivery. Few of the utilities managed are as follows:
Surveillance: Approximately 1,500 cameras are installed for surveillance in the city to manage safety and security issues. This camera surveillance is used by Police department to solve the cases, thus reducing the criminal activities.  Public places, roads and major public buildings, establishments are secured through CCTV surveillance monitoring.
Environment: It refers to the various sensors installed across city to monitor and track data from sensors like pollution sensors, noise sensors, light sensors, etc. This information has helped the city officials in addressing and tackling various issues through informed decision making and timely action.
COVID-19 Data: Availability of the data for daily COVID-19 cases provides details of number of patients admitted, number of patients discharged, etc. This has contributed in effective COVID-19 management.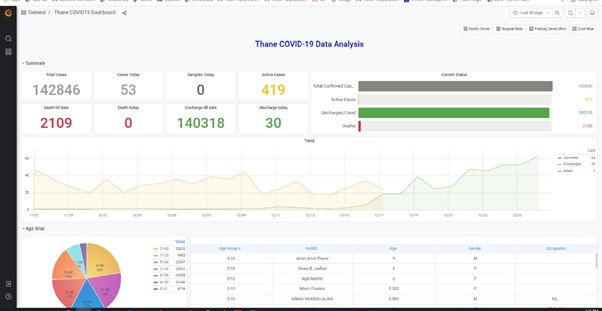 Figure 2: COVID-19 cases data analysis
Hospital Management: Under this, ICCC provides data of the availability of the hospitals bed (ICU and non-ICU beds) in the city to the citizens and city officials.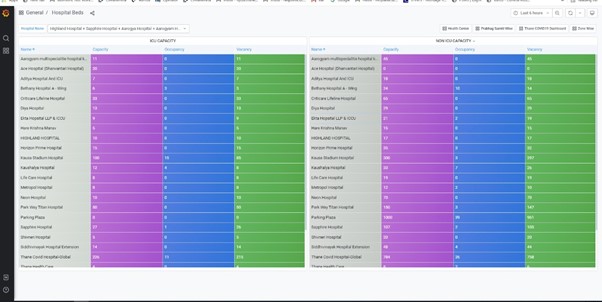 Figure 3: Hospital Bed Availability details
2. City mobility services: It refers to mobility services provided to citizens to travel from one point to another and includes provision of connectivity, accessibility and also use of public space for parking of vehicles.
Transit Management (connectivity): With respect to the management of public transport vehicles, data of around 420 buses is available across various parameters such as bus tracking, panic alters/situation, over-speeding, not attending halts at bus stop. Real-time data of the TMT buses such as location, vehicle number, timestamp of the panic situation is also captured through the ICCC.
3. Safety and Security: ICCC has helped the police to enhance citizens' safety by providing necessary surveillance information for both reactive and predictive policing. CCTV surveillance has been an important component of the ICCC with usage of video data analytics to provide police with timely alerts for action.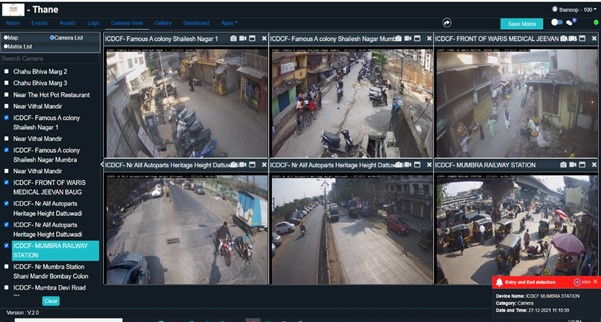 Figure 4: Police Surveillance through installed CCTV cameras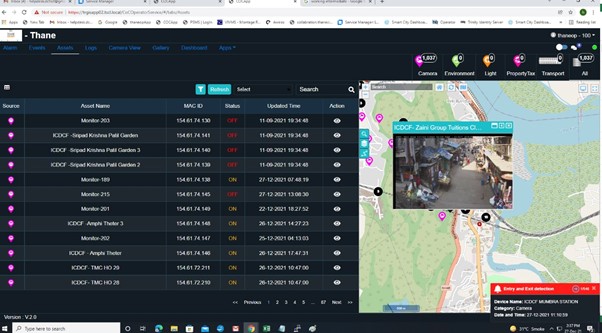 Figure 5: Police Surveillance w.r.t. CCTV cameras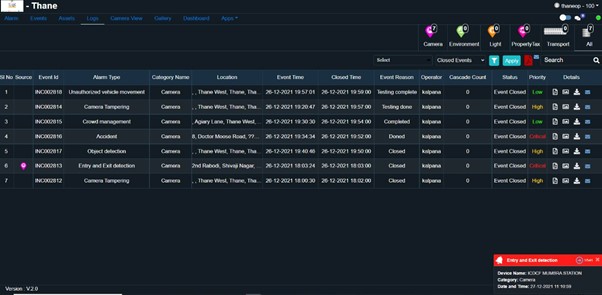 Figure 6: Pop Up in case of incident
4. Crisis Management: The crisis management solutions developed using various data points have addressed the major disaster-related events which could have occurred in the city. The crisis management operations in the city includes medical services, fire brigade and police which may need to react either together or in any combinations based upon the type of exigency.
These aforementioned services are assessed in detail based on respective functional use case configured with ICCC platform. In first stage, city has done the self-assessment of maturity of specific domain as per its readiness at ICCC. Smart City ICCC functional assessment comprises of following component for each use case mentioned above:
I. Data Acquisition and Visualization
II. Data Analytics and Co-relation
III. Communication
IV. Command and Control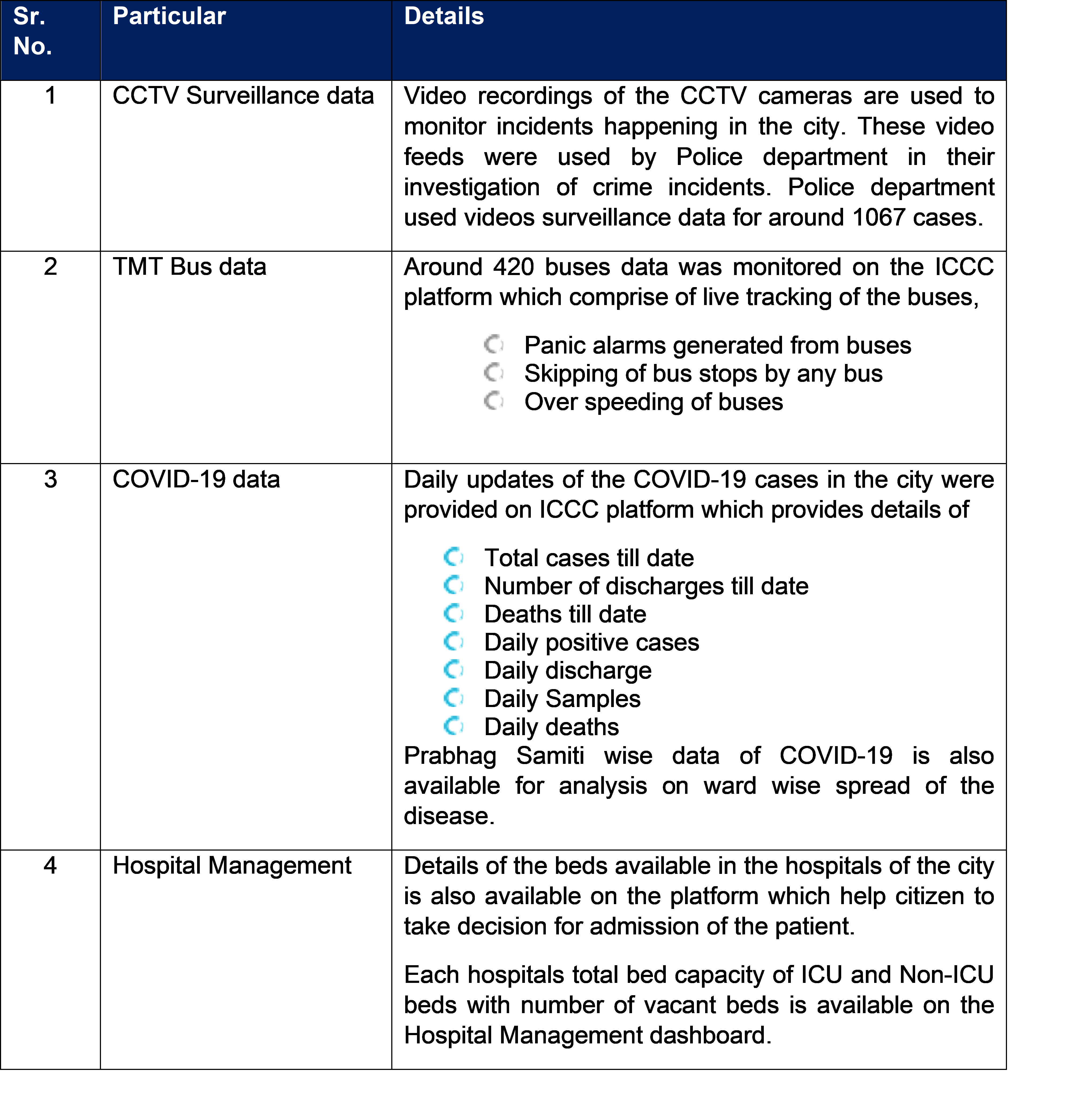 Outcomes:
Thane Smart City realizes that data is an important asset to not only design better policies or frameworks but also implement them more effectively. Several key insights are drawn from the data which is analyzed and channelized through the ICCC daily. The data solutions implemented through the ICCC have proved to be instrumental in helping city officials as well as the citizens through numerous use-cases as highlighted above.
These data-driven solutions have been used for all the citizen centric services and processes inclusive of their safety, protection, and policing. People could freely move around in the public places due to availability of the surveillance systems giving them a sense of security. Citizens have started acting responsibly towards the containing the spread of coronavirus and can take informed decisions due to readily available information on number of active cases, the number of beds, etc. Police department achieved immense progress by making use of data to solve the criminal incidents held under CCTV surveillance areas.
The key outcomes accomplished through this project have been improvement of incident management, effective decision making and reduction in criminal activities which is achieved through effective implementation and monitoring & evaluation.
Moving ahead, TSCL plans to install more CCTV cameras and sensors in the city adding to its improved surveillance system capacity and also other allied areas. Furthermore, TSCL is planning to drive other initiatives and processes through ICCC such as Traffic management, solid waste management, smart lighting, smart water meter integration, property tax mapping, wastewater management, etc. so that all the public utility related data can be easily accessed by the citizens as well as it can be analysed and monitored by the TMC.