SMC COVID-19 Management System by Surat Municipal Corporation
April 13, 2020
Surat Municipal Corporation(SMC) has taken various initiatives to fight COVID-19. The Information Technology (IT) department of SMC has developed SMC COVID-19 Tracker System which includes a COVID-19 management portal and Mobile application named "SMC COVID-19 Tracker" to track and monitor people who have
Abroad travel history
Interstate travel history
Persons who have come in direct contact with positive COVID-19 individual
ARI persons with symptoms related to COVID-19 (Fever, cough, difficulty in breathing, diarrhoea etc.
Methods of collecting information
Details of travellers and other individuals are collected through various sources like
Self-Declaration form on SMC website
SMC has published Self Declaration Form on website www.suratmunicipal.gov.in where individuals can submit their details including their abroad or interstate travel history and if they have come in contact with any positive COVID-19 individual. Upon submission of details, an SMS is sent to individuals with unique Tracker ID and are asked to download SMC COVID-19 Tracker Mobile App.
Calls received on helpline number (1-800-123-8000)
SMC has also started a helpline number 1-800-123-800 where citizen can share details about travelers or suspects. The details are verified by SMC team including health officials. A field team visits the location and if the details provided on helpline is verified, the individual is asked to stay in home quarantine and they are also assigned unique Tracker ID and are asked to download SMC COVID-19 Tracker Mobile App.
International traveler information received from Government of India(GoI)
Details received from Ministry of External Affairs regarding travel history of persons from Surat are fed in COVID-19 Management System and individuals are notified to download the SMC COVID-19 Tracker Mobile App.
Details of patients received from Private Clinics / Hospitals and Urban Health Centers
Patients with ARI symptoms who have visited private clinics or urban health center are also notified to download the app and remain in home quarantine.
Door to Door survey by SMC team etc. (A mobile app is used to capture information from field)
The field team conducts a house to house survey to identify cases with symptoms related to COVID-19 and the suspects are directed to stay in home quarantine while using the app.
The brief about the functioning of application is given below:
Individuals have to fill questionnaire twice a day (Morning 10 AM and Evening 9 PM) through SMC COVID-19 Tracker App regarding their health. After due consultation of health officials, we have prepared three questions in the questionnaire viz., if a person has fever, cough or difficulty in breathing. With this questionnaire, individual have to also send their Selfie (Photo). If any individual mentions issue in questionnaire regarding their health, initial follow up is done over the phone and if required, individuals are asked to visit nearby health facility for necessary check-up and treatment.
Apart from Health Check-up Questionnaire, individuals have to send their location every hour (From 9 AM to 9 PM) to confirm that they are following home quarantine on regular basis. SMC team monitors the location history of individuals if any individual is found not following the home quarantine guidelines, strict actions are taken against such individuals.
For every individual asked to stay in home quarantine, daily follow-up is also done by SMC Team either by home visit or over the phone. Follow up done by SMC team is also captured through the system.
If any individual has developed symptoms during home quarantine and has been shifted to hospital, individuals who have come in contact of suspects are entered in system under contact history so that they can be linked to understand the contact tracing. If the person admitted to hospital is found positive, the contacts are asked to follow quarantine.
Necessary MIS reports are prepared in the system and new reports are being developed as per requirements of health department. Necessary App Installation manuals for Android and iOS are also prepared along with YouTube videos to help citizen install the application .
Information received from above mentioned sources are fed to the centralized COVID-19 Management System. SMC have tracked more than 6000 such individuals, which have a great impact in containment of the disease so far. As the possibility of community transmission is considered, the same technology was used to ensure strict home quarantine to all the cases with ARI and mild influenza like illness. SMC has planned and activated integration of IT system with ongoing active and passive surveillance.
SMC receives information of ARI patients by three mechanisms: Active surveillance, and passive surveillance
Active surveillance
Surat Municipal Corporation has well established system of active surveillance. The grass root workers are the team of ANM/ASHA and PHW. During house to house visits, team will prepare line listing of all the cases with ARI. The team will also perform an IEC activities mainly focused on respiratory etiquette and social distancing. All the ARI cases will be visited by RBSK doctors after notification by the team. The RBSK doctors will provide preventive, promotive, curative care and referral facilities as per need. The RBSK doctors will also ensure SMC COVID-19 tracker application be downloaded in the mobile phones of the patients with ARI. The patients will be informed to send their GPS location regularly and fulfil the questionnaire related to their current health twice daily. Any updates which need the immediate action will be notified by SMC and RRT will manage the further action like referring the individual at hospitals where COVID patients are being treated (NCHS/ Mission). The Medical Officers of respective urban health centre will supportively supervise the entire activity.
Intern doctors from SMIMER are also appointed for regular telephonic follow up of all ARI patients. They also provide the counselling facilities and IEC with special emphasis on social distancing and respiratory etiquettes.
Deputy Medical Officer of Health monitors active surveillance in direct coordination with Medical Officer of Health and Deputy Commissioner Health & Hospital, SMC.
Outcome:
All the patients with ARI are listed out and mapping is done. This ultimately lead to early identification of clustering of ARI cases or possible outbreak situation
Early identification helps in prioritize the strategy pertaining to specific region to contain further transmission of disease
Strict home quarantine ultimately have an impact on overall reduction in the burden of disease in specific geographical region
Passive surveillance
At this stage, SMC is regularly getting data from private hospitals and clinic. The private hospitals are entitled to notify all the cases with influenza like illness or ARI and SARI (Severe Acute Respiratory Syndrome). The testing for all these patients for COVID 19 will be implemented. This ultimately lead to less chance for missing cases of COVID 19.
Outcome:
Notification from private hospitals helps in adding the additional testing of the patients to find out missed community case at earliest
Ultimately it aid in early identification of cases, and application of measures to break the chain pf transmission
Standard Operating Procedure for ARI cases
The SMC COVID-19 Tracking System along with Android and iOS App are developed in very short time of 5 days. As of now around 6000 individual details are entered in the system and more than 5500 persons are using Mobile App to send their locations every hour and are submitting their health check-up questionnaire twice a day.
The system developed by SMC was reviewed by Government of Gujarat and Government of Gujarat and GoG is in process of implementing the same for the entire state. Some of the screenshots of the system are given below: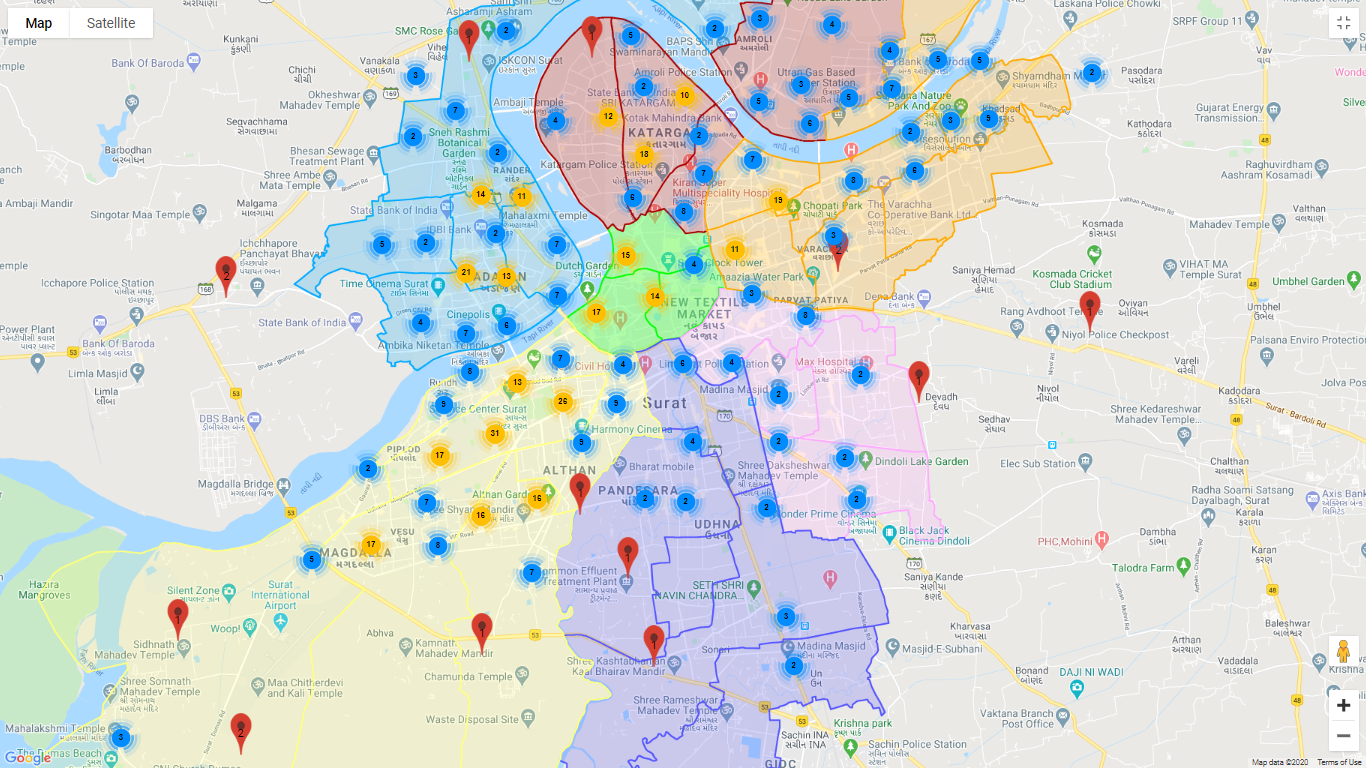 Map view of home quarantined individuals in Surat
Mobile App used by Citizens Screenshots
Active Surveillance Mobile Application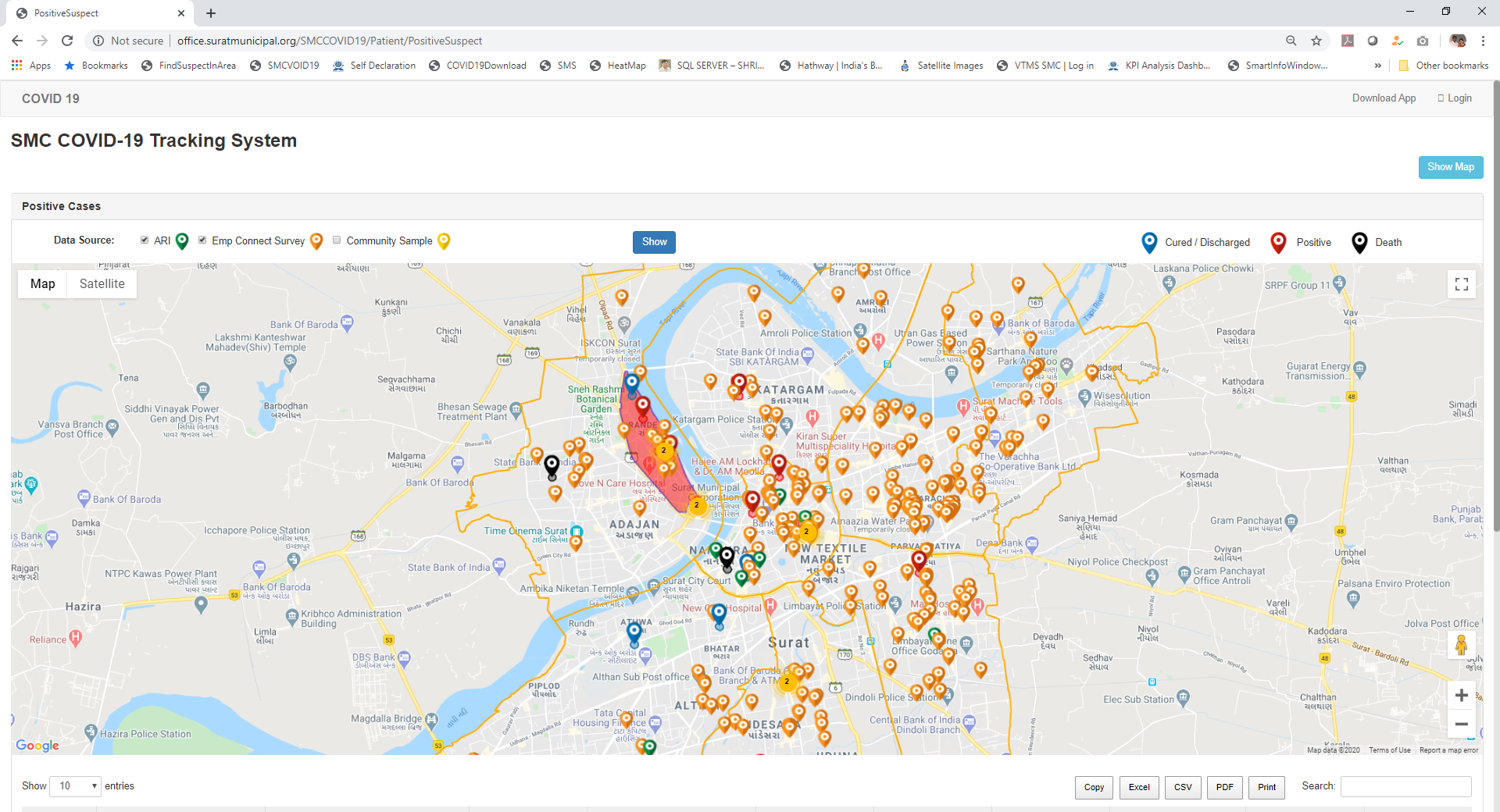 Mapping of Positive Cases with ARI and House to House Surveillance
Heat Map of Positive Cases and quarantine persons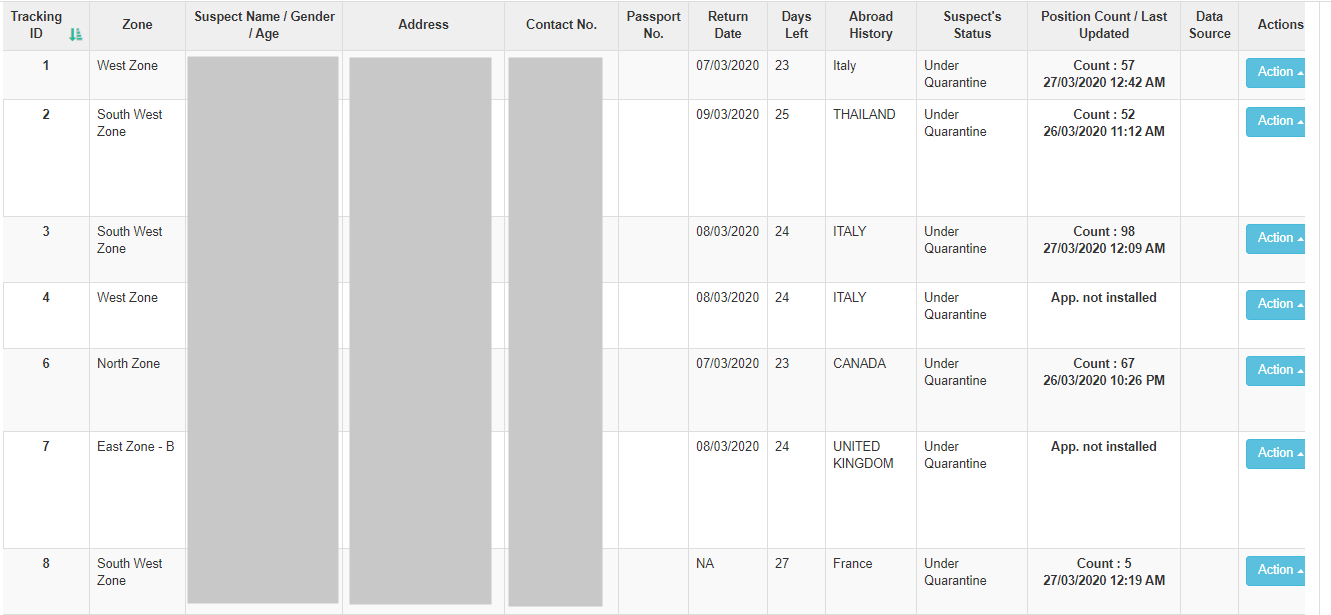 List view of home quarantined individuals in Surat
Tracking of individual in home quarantine in Surat
Travel history of individual along with follow-up by SMC Team
Health Check Questionnaire details received through Mobile App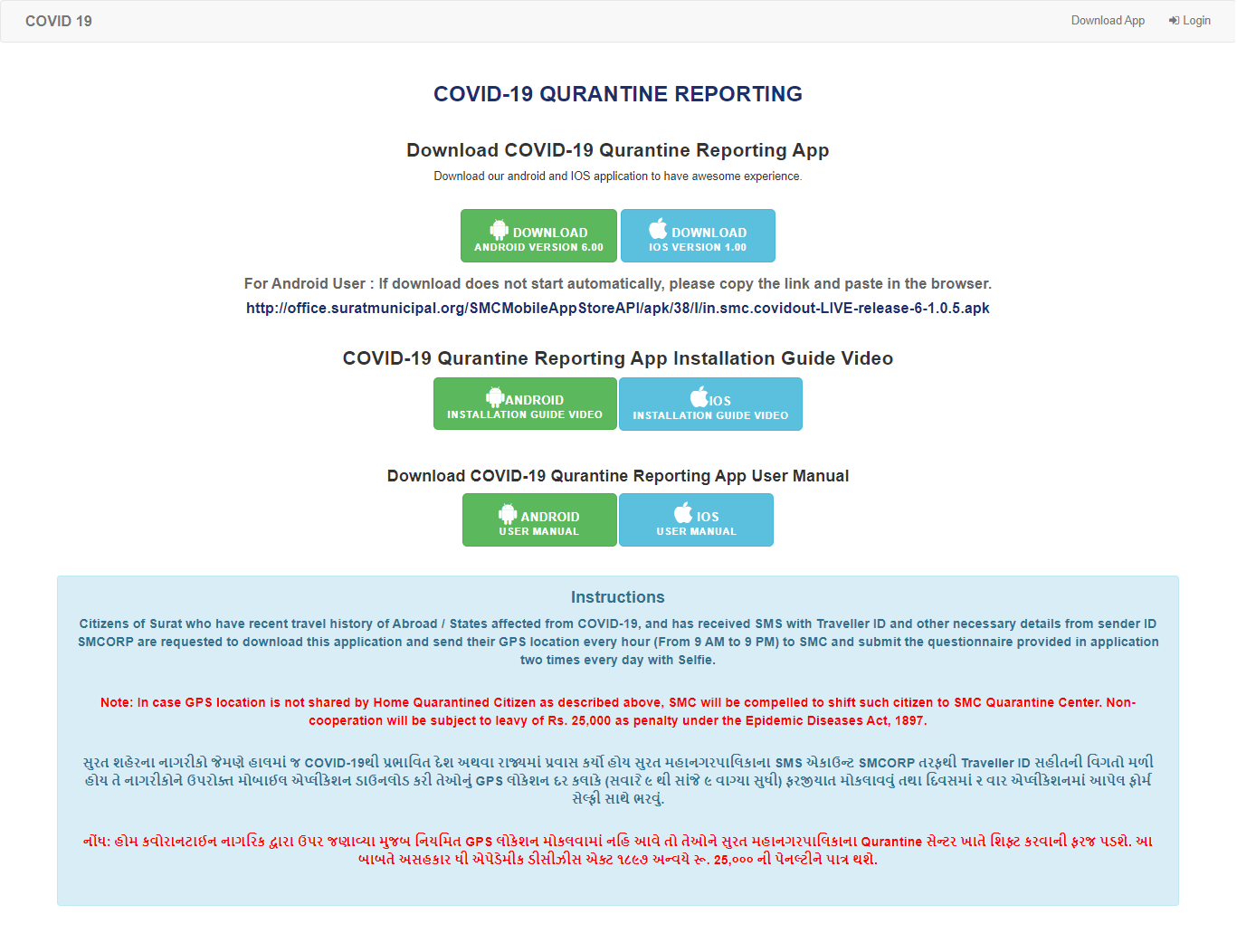 Mobile App Download Instructions with app download link and installation guides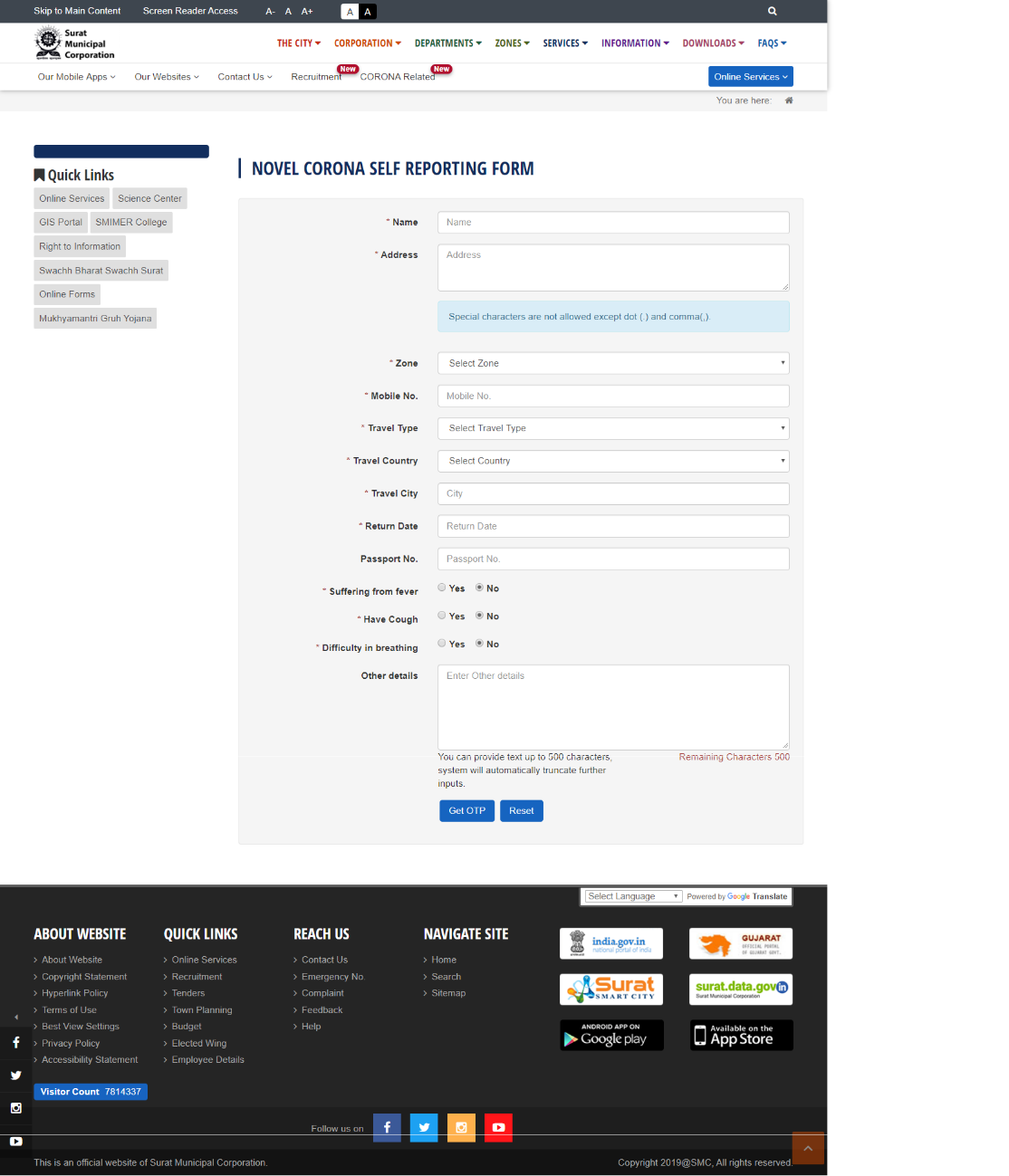 Self Declaration Form on SMC Website
COVID-19 Dashboard on SMC Website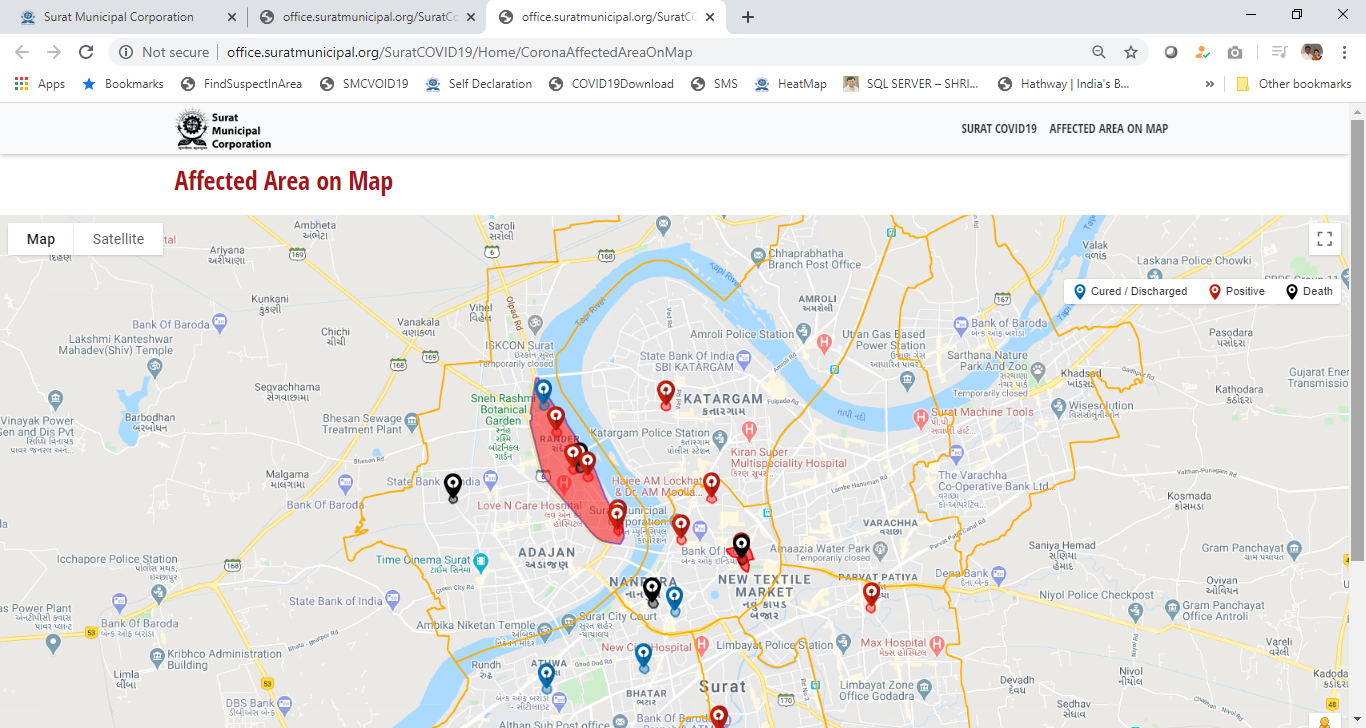 COVID-19 affected area displayed on map