Revenue Reform- Increase of Property tax collection using GIS and Data Analysis
August 21, 2019
Introduction
Jabalpur Municipal Corporation is the third-largest municipal corporation in Madhya Pradesh. It is divided into 15 zones and 79 wards. Increase of their revenue and collection of the registered demand was always a big challenge for a municipal corporation. Limited resources, the traditional process for demand generation and collections were not found feasible enough. Under Revenue Reform JMC has done GIS based mapping of properties and other Geographical features of the city to identify the un-assessed property and increase the revenue.
Methodology Approach:-
Procure the Geo-referenced Satellite Image.
Each property was captured in a closed polygon, with a background of satellite imagery and assigned a Unique Parcel No.(UPN) which was created with the combination of Zone No, Ward No, and 5 digits of Serial No of the property for example 115500452 means Zone No 11, Ward No 55, Serial No of property 00452.
Take the printout and start the door to door survey in the format provided by State govt.
Take the photograph of each property and rename as per the properties' Unique Parcel No. (UPN).
After Survey, data entry of surveyed form was done in a customized database.
The survey data and the photographs were then linked to the GIS parcel numbers, this way GDB(Geodatabase) was prepared.
GIS datasets were now compared with Existing Municipal MIS datasets of registered properties.
Generate the comparative Property Register that  highlight

New Property/ Unregistered Property
Property that has a mismatch in Area
Property mismatch in Other MIS Records i.e owner name, address, Mobile No, etc
JMC officers were then supposed to verify the register and work further for improvement of their MIS records as per the survey results and register the properties that were not assessed as well as get their database corrected.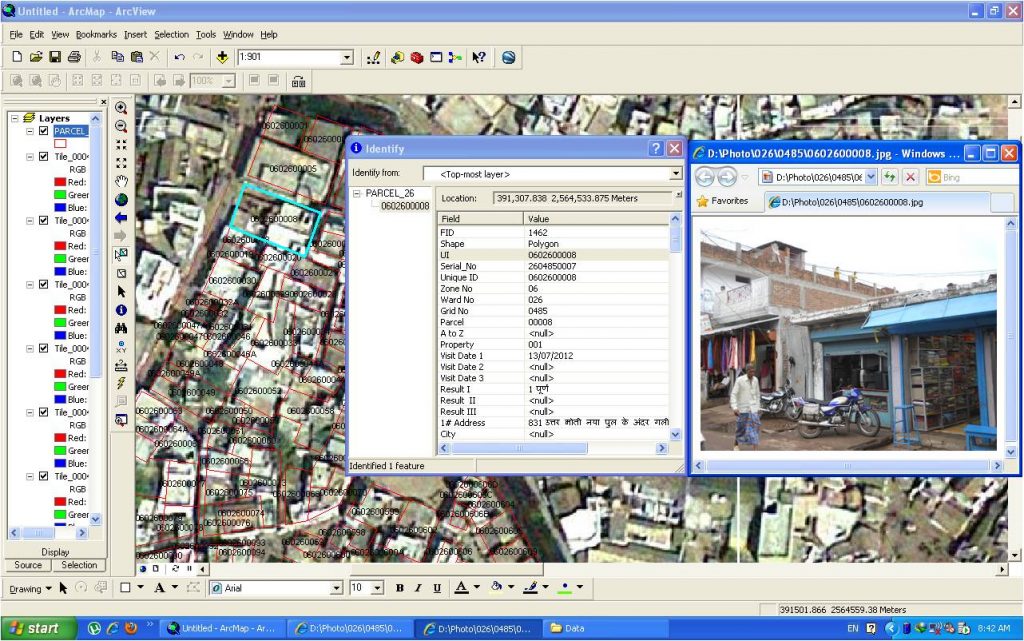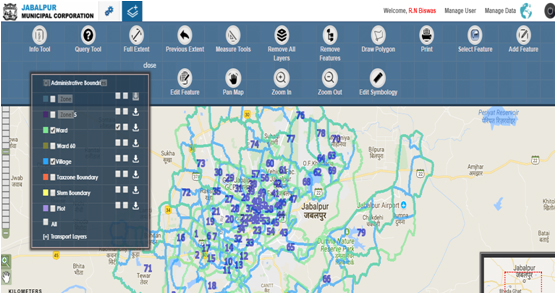 WebBased GIS Application for Departments under Municipal Corporation and Citizens
Challenges
During the Survey, We found that due to the Resolution limitation of satellite images, in some places one GIS Parcels covered more than one field property and in some places one property on the field was covered in multiple GIS parcels.
We understood the problems and for fixing this we had to merge the GIS parcels in some places and divide them in the other. Where we had created extra parcels in between two existing parcels, by clipping any one of those we gave them Unique Parcel No like 0115501245/A by assigning alphabets in front of the Unique Parcel Numbers.
Linked datasets were then given to JMC staff for cross verification. They were not able to read the maps efficiently. Then we decided to provide special training sessions for the Tax collector, Revenue Inspector, and other revenue staff for Map Reading and make them able to do the verification through maps. Then they were able to complete the verification.
JMC had changed its existing 60 wards into the new 70 wards without extension of their limits. That was the major challenge to rectify the data linked in this situation. At that time we had completed almost 50 percent ward door to door survey and 100 % mapping of GIS parcels and had generated the unique numbers for every property.
Result
Before the survey took place Jabalpur Municipal Corporation had 1.56 lakh registered properties. Later on, when the survey got completed, we saw a very remarkable outcome. The property count increased. Now we had approx 2.53 lakh properties registered with us.
The 61.6 percent growth has been recorded during this period.
The total revenue collection increased from 35 Cr. to 78 Cr.
The Property Data correction/refinement caused an increase in service satisfaction level of the citizens. Approx 35000 addresses were updated and close to ten thousand owner details were rectified.
Duplicate records of approx 28000 properties were identified and locked, that were generated during the migration of data from old to new MIS system of JMC.
Complete GIS datasets were made available to the citizens through Web GIS Portal developed by JMC.