Pune: Improving municipality performance using an enterprise dashboard
September 27, 2019
Enterprise Challenge
Pune Municipal Corporation (PMC) was planning to set up a one-stop platform providing an interface to represent Key Performance Indicators (KPIs) of each of the line departments with visual representations in terms of graphs, charts and trend-lines etc. These representations help in analyzing the data and derive meaningful insights.
Impact of data driven approach to address the challenge
While developing the end-to-end data management and analytics model for the city dashboard, PMC used the data generated through departmental processes to identify parameters leading to actionable insights for stakeholders at various levels in the organization.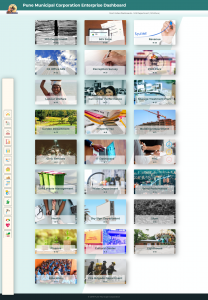 Through collective data and real-time data availability, the enterprise dashboard has provided following major benefits for PMC:
Ability to take data driven decisions in critical operability.
Bringing transparency and ease of governance in monitoring and implementing city operations based on data driven strategy.
Ability to forecast, analyze and track individual departments / processes / departments
Link: intbi.punecorporation.org