#OpenGovDataHack Patna Oct'17
October 17, 2017

Open Government Data (OGD) Platform India – data.gov.in – is a platform for supporting Open Data initiative of Government of India. The portal is intended to be used by Government of India Ministries/ Departments their organizations to publish datasets, documents, services, tools and applications collected by them for public use.

It intends to increase transparency in the functioning of Government and also open avenues for many more innovative uses of Government Data to give different perspective.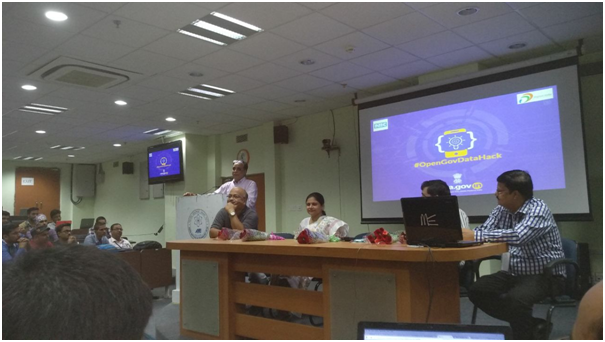 Sh. Sanjay Singh Gahlot, DDG NIC delivered key-note address at Senate Hall, IIT-Patna on 14th October 2017
Leveraging OGD Platform, hackathon was organized from 14-15 October 2017 at IIT-Patna. Online Registration at event site of data portal was open for Students and Start-up. More than 100 Registration was reported and 36 teams participated in 24 hours hackathon.
Themes for hackathon were Drinking Water & Sanitation, Health, Education, Transport and Crime. Teams worked either for Info graphics or Mobile App based on Themes using available Datasets and APIs.
Sh. D P Mishra, Technical Director, NIC New Delhi and Open Government Data (OGD) Platform Coordinator, Professors from IIT-Patna and NIC Officers from Patna and New Delhi participated in the OpenGovDataHack event. The event also witnessed presence of Sh. Rahul Singh, IT Secretary, Govt. of Bihar, Sh. Rajesh Kumar Singh, SIO, Bihar, ADG UIDAI, Director NIELIT, Sh. S K Shrivasatava, HOD, DGRC, Patna and NIC Officers from New Delhi and Patna. Technical support was extended by NIC Team Sh. Varun Gupta, Sh. Subhdip Biswas, Sh. Prakash Kumar, Md. Rizwan, Sh. Anup, Sh. Rahul Kumar, Sh. Suraj Kumar Das and NKN FMS. Sh. Rabindra Kumar Singh, ASIO (State Hq), Sh. Rajiv Ranjan, Sh. Rana Pratap, Sh. Sanjeev, Sh. Sanjay Kumar, Sh. Tarkeshwar Prasad, Sh. A K Pal and Sh. Narendra Kumar also participated and extended necessary assistance in organizing the function. The overall event was locally coordinated under the leadership of Sh. Rajesh Kumar Singh, SIO Bihar.
Please find the more details at event site
Events and Media Reports