Open Data Portal for Smart Cities
May 10, 2019
Smart Cities Mission is an urban renewal and retrofitting program by the Government of India with the mission to develop 100 cities across the country making them citizen friendly and improving the quality of life for individuals and communities. Data plays a vital role in achieving this mission. With modern analytics tools Data helps in planning and development of smart cities in India.
National Informatics Centre (NIC) in coalition with Ministry of Housing and Urban Affairs has developed an Open Data Portal for Smart Cities (https://smartcities.data.gov.in) to share datasets generated from various smart cities. Created using Software as A Service (SaaS) model of Open Government Data Platform, the Portal offers datasets in various machine readable formats.
Currently the Portal offers data of 98 cities which have been categorized into 2,393 catalogs and a total of 2,896 resources and 20 APIs (as on 10th May 2019). The resources contain a wide spectrum of data, from city's crime records to water consumption details to VAT and GST information. The data can be searched for individual cities and individual sectors. Sectors such as "Environment and Forest", "Finance", "Health and Family welfare", "Governance and Administration", "Urban", "Transport" and "Water and Sanitation" have most number of (more that 100) datasets shared. Cities of "Ujjain" and "Greater Warangal" stand out with the maximum number of catalogs shared.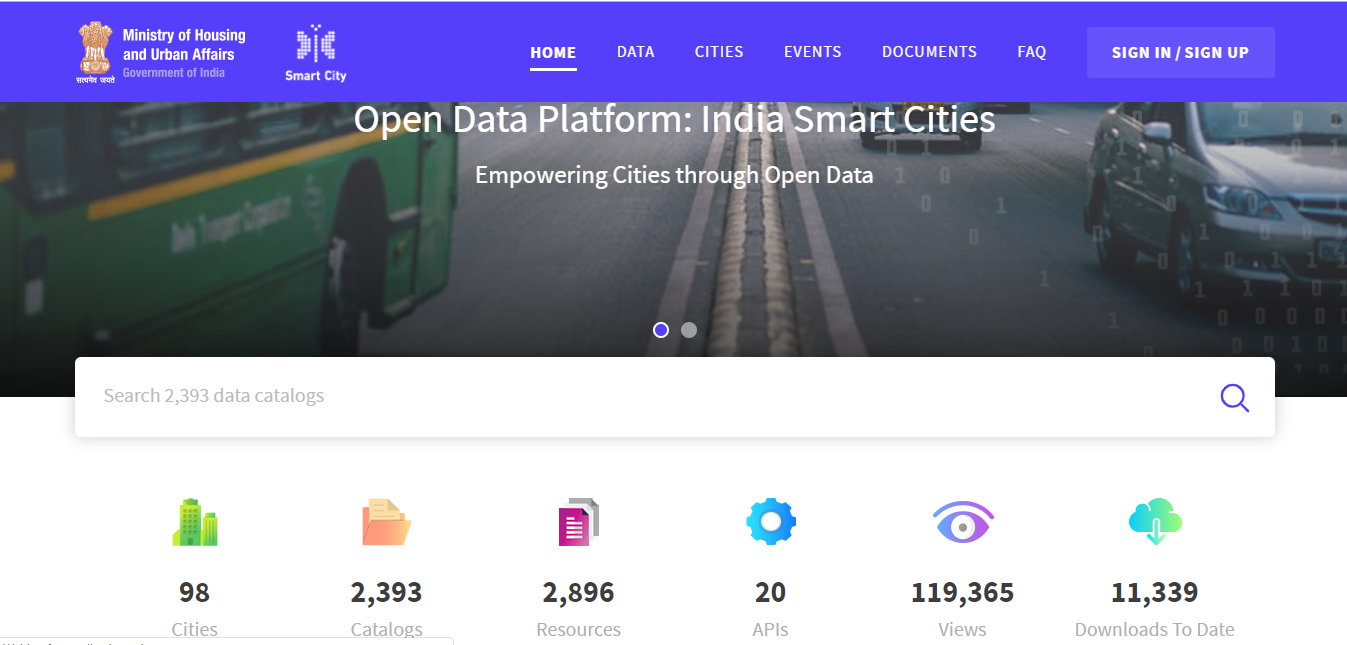 Apart from accessing data published on users can also suggest dataset which they want to use by selecting the option of "Feedback and Suggestions". One can also share insight of data on this platform by selecting the "Share your data story" option.
The data from the cities are highly valuable. These data not only bring transparency to the citizens but also allows for creativity by it's users who seek and develop solutions on their own. Users can create forecasting models and AI models around this data which will help city authorities in optimizing city's infrastructure and improving public conveniences. A small example of such analysis is shown in below figure which illustrates Solid Waste Management in Amritsar.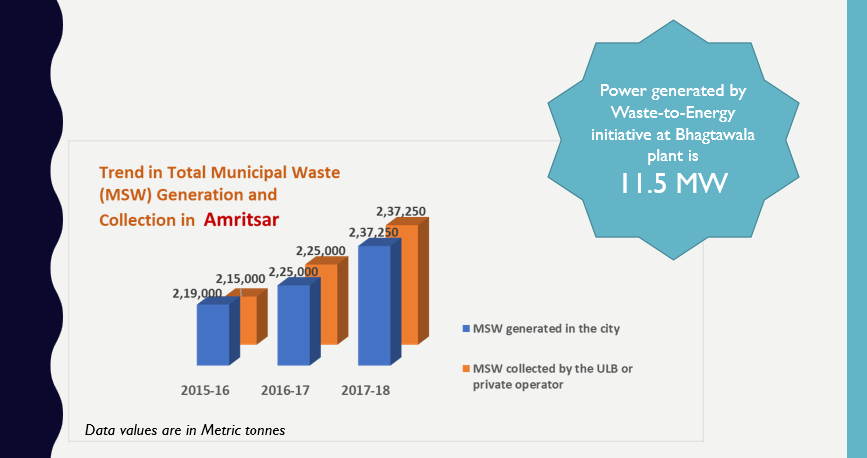 Follow the links to access respective dataset: –

https://smartcities.data.gov.in/catalog/solid-waste-management-efficiency-amritsar?filters%5Bfield_catalog_reference%5D=2913037&format=json&offset=0&limit=9&sort%5Bcreated%5D=desc
https://smartcities.data.gov.in/catalog/solid-waste-management-amritsar-1?filters%5Bfield_catalog_reference%5D=2913088&format=json&offset=0&limit=9&sort%5Bcreated%5D=desc