MSME data on Open Government Data Platform
September 4, 2019

MSME (Micro, Small and Medium Enterprise) is a highly vibrant and dynamic sector of the Indian economy. They act as a catalyst for socio-economic transformation of the country. These enterprises help build a progressive entrepreneurial eco-system, generating employment and reducing poverty. They also help in industrialization of rural and underdeveloped areas, thereby, reducing regional imbalances and discouraging rural-urban migration.
Ministry of Micro, Small & Medium Enterprises (M/o MSME) envision a vibrant MSME sector by promoting growth and development of the MSME sector, including Khadi, Village and Coir Industries, in cooperation with concerned Ministries/Departments, State Governments and other Stakeholders, by providing support to existing enterprises and encouraging creation of new enterprises.
The primary responsibility of promotion and development of MSMEs is of the State Governments. However, Government of India, supplements the efforts of the State Governments through various initiatives. The role of the M/o MSME and its organizations is to assist the States in their efforts to encourage entrepreneurship, employment and livelihood opportunities and enhance the competitiveness of MSMEs in the changed economic scenario.
Vision: "SUSTAINABLE DEVELOPMENT OF GLOBALLY COMPETITIVE MICRO, SMALL AND MEDIUM ENTERPRISES AS AN ENGINE OF GROWTH FOR THE INDIAN ECONOMY".
Ministry of Micro, Small and Medium Enterprises has shared 7 datasets through webservices at Open Government Data Platform India. These datasets give us a district level cumulative count of the MSME registered enterprises, categorized as Service Enterprise, Manufacturing enterprise and Manufacturing & service (combined) enterprise.
Follow the link to avail these datasets – Udyog Aadhaar Memorandum (MSME Registration)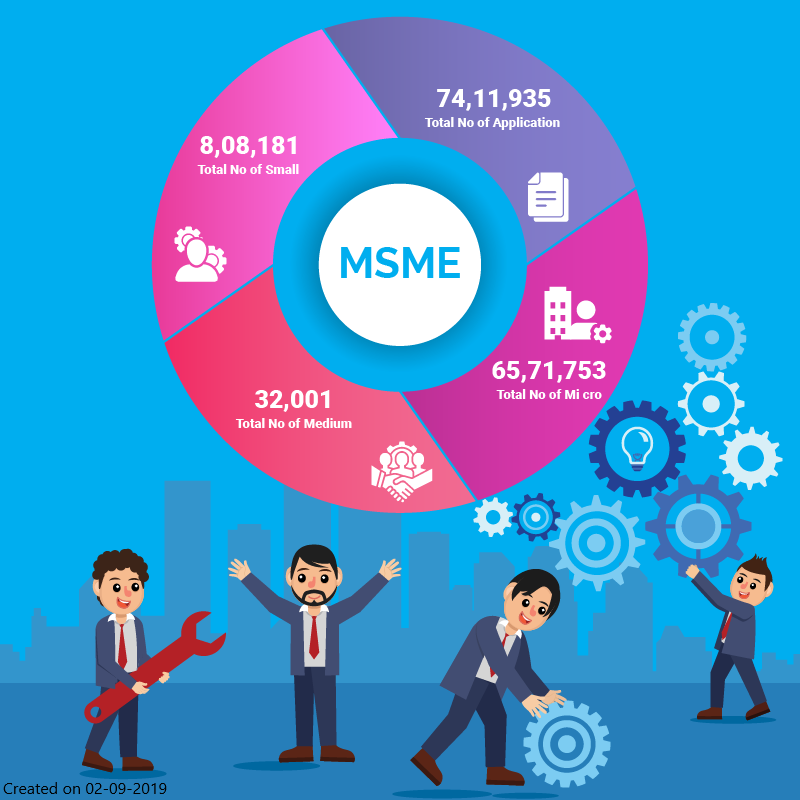 Fig: MSME registered units till 02/09/2019