Implementation of Integrated Command & Control Center (ICCC) in Prayagraj City
July 9, 2019
Implementation of Integrated Command & Control Center (ICCC) in Prayagraj City
The ICCC Prayagraj contract was signed on 1st Aug'18 with a project timeline till Sep 2019. The geographical coverage of the project has been divided in two categories as mentioned below:
Strategic objectives
The geographical coverage and strategic focus of the project has been divided in two perspectives as mentioned below:
1.      ICCC for Pan City Area from Smart City perspective
ICCC for Pan City area to enable collation of information and collaborative monitoring, thus helping in the analysis of data for quicker decision making. Intelligent operations capability shall ensure integrated data visualization, real-time collaboration and deep analytics that can help different stakeholders prepare for exigencies, coordinate and manage response efforts, and enhance the ongoing efficiency of city operations. The interface at ICCC gives a real-time and unified view of operations.
2.      City Surveillance for areas impacting from Kumbh Mela 2019 perspective
ICCC for Kumbh Area to implement holistic and integrated video surveillance system for Kumbh Mela 2019 in Allahabad City for. The major objectives of the systems are: –
Support police to maintain Law and Order
Act as an aid to investigation
Improve Crowd Management
Help in deterring, detecting and thus dealing with criminal activities
Monitor select vital public places of Kumbh Mela 2019 in Allahabad City for keeping eye on regular activities & for disaster management support
Allahabad Smart City Limited envisages deployment of following components to achieve the above- mentioned objectives:
Phase – 1
Intelligent Traffic Management System (ITMS)
City Surveillance System
Solid Waste Management
Network Connectivity
Phase – 2
Data Center (DC)
Disaster Recovery Center (DRC)
Viewing Centers
Command & Control Centers (CCCs)
Integrated Command & Control Center (ICCC)
Transit Management System for City Buses
Environmental Sensors
Smart Parking System
A defining project – Phase 1
Ø    Process Efficiency
Prayagraj Smart City features 24×7 City Operations Center with Integrated dashboard to give an eagle-eye view of Municipal functions enabling real-time, Data-Driven Decision making and actionable insights
Multi-domain analytics through Video Analytics and first-of-its-kind global crowd management system that proactively interprets crowd dynamics and provides timely alerts by taking into account head count and people density at mega
Two state-of-the-art Command and Control Centers, one at the Kumbh specific area and another at Police Lines for the overall city
Ø    Citizen Delight
§  Intelligent Traffic Management Systems:
A unique feature of the Intelligent Traffic Management System installed across 19 junctions is that it is adaptively driven and largely proactive giving leads and feeds to the administrators to facilitate alignment of traffic flow based on prevailing situations.
§  Integrated Surveillance System:
1000+ cameras installed at more than 250+ locations throughout the city enables the Police
to deter, detect and deal with criminal activities to ensure citizens' safety.
§  Solid waste management:
The daily waste generated is sustainably channelized across 500 dustbins and 48 dumping locations with the entire collection and segregation process monitored through a GPS tracking system to ensure that the city remains clean and healthy.
§  24*7 Contact Centre (1920):
A dedicated helpline with round the clock operations address queries of pilgrims and locals and triggers instant responses for city administrators if any emergency situation arises.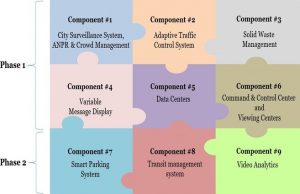 Benefits
With the support of emerging artificial Intelligence Technology used in Crowd analytics helps to Interpret the Crowd Density and manage the Crowd on SNAN days and also helps to interpret the crowd Judging by the density of crowd, thresholds were set in order to interpret the crowd density in real time as well as in advance which led to effective crowd control mechanisms.
With the help of 1000+ cameras, real time monitoring and response mechanisms in case of mishaps have resulted in faster and efficient issue
With 40 VMD's implemented at 40 strategic locations paved an efficient way to transmit emergency messages to guide and manage the crowd flow through different routes as well as different railway stations as per the vacancy and availabilities at those
Solid waste management, one of important component of Smart City Mission also implemented that Includes Sustainable Channelization of waste across the 500 dustbins and 48 dumping locations with the entire collection and segregation process monitored through the GPS tracking system with a motto of Keeping City Clean and
Number plate Recognition System e. ANPR installed at various strategic locations helps to capture the number plates that can be used to nab the Suspected Vehicle Details Registered with RTO database.
Biometric attendance system for workers indulged in Garbage Collection activity by linking Device with their Aadhar
Case Studies
§  Crowd Management:
As per RFP scope of work, 22 Camera with Crowd Management analytics were installed at 5 Major Ghat areas i.e. Sangam Nose, Arail Ghat, Ganga Prasar, Dashwamedh & Nagvasuki Ghat to monitor real time crowd through several reports generated on real time as well as on hourly basis to calculate average crowd density (Person per Sq. Mtr.) present at Ghat areas. Another 19 Crowd Cameras were installed at 13 Key locations in the City to report hourly flow of people entering to Kumbh Snan Ghats.
Crowd Analytics application has been integrated with Centralized ICCC dashboard platform (i.e. CKC) to display the alerts in Geographical Maps. Moderate & Critical Alert were set for Crowd Density above 2.5 & 3 (Person per Sq. Mtr.) respectively.
Based on data generated through Crowd Cameras, System generated Alerts for dense crowd density were generated and sent for action to respective Police Officials.
Sample alert generated due to accumulation of pilgrims at Sangam Ghat resulted in more than 5 Person per Sq. Mtr. crowd density on 15th Jan'19 has been depicted below:
fig. Alerts generated on 15th Jan'19 due to assembly of 1.8 person per sq. mtr. on Sangam Nose
Basis these alerts Police Officials have initiated preventive SoP's to counter this situation which resulted in diversion of pilgrims from this Ghat to nearby Ghats resulting in decrease in inflow and hence, reduction in crowd density resulting in reduction in severity of situation.
In order to facilitate efficient and faster decision making, several systems generated reports gets displayed on ICCC software CKC dashboard for easier understanding of situation. Some of the sample system generated reports are shown below:
Crowd Management: Crowd Density at Sangam Nose (04th Feb'19)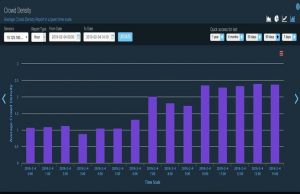 2. Crowd Management: Overall Crowd Density (14th Jan'19 to 04th Mar'19)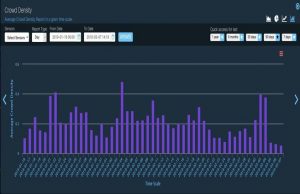 3. Crowd Management: Line Entry and Exit Count (14th Jan'19 to 04th Mar'19) using 19 cameras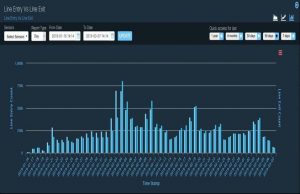 §  Citizen's relief – 1920 Contact Centre:
A dedicated helpline 1920 with round the clock operations for addressing queries of pilgrims and locals was set up at KM CCC for making the Kumbh experience of Pilgrims pleasant and issue free.
This helpline was also integrated with UP DIAL 100 for addressing any distress calls received which needs immediate response.
Near the contact centre, a war room committee was also established which comprises of representatives from all the immediate response authorities and basic necessity agencies. This helped in triggering instant responses for city administrators in case any emergency situation.
The overall operating procedure of 1920 contact centre helpline has been depicted below: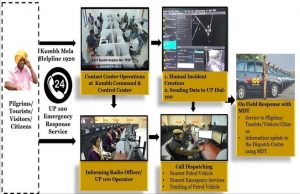 The day wise call receipt details have been shown below: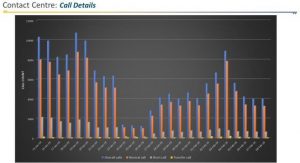 Once the call is received, the same will be registered in CKC software. Based on the kind of incident linked with the call, specific SoP as defined in system initiates and the information is passed to significant agencies via. different modes i.e. message, call and radio announcements. Once the information is passed on, specific actions are performed by the respective agencies. After fixed waiting time, feedback call was made to those agencies and the incident was closed as per the feedback received. Below is the bar chart depicting total number of resolved incidents created throughout the Kumbh duration: