Bhopal: Fighting COVID-19 through ICCC
February 17, 2021
Bhopal: Fighting COVID-19 through ICCC
The ICCC in Bhopal City has emerged as a "City Level Corona Combat Center", with stakeholders from different city administration units including Collectorate, Bhopal Municipal Corporation, Bhopal Smart City, Health Department etc. for efficient planning, monitoring, predictive actions and implementation of measures useful for citizen connect and city authority.
Action plans were prepared in coordination with various departments like District Administration, Municipal Corporation, Police Department, Health Department etc. The most important component of this action plan was to establish a unified control room so that coordination between different departments could be made and information exchange was possible in an easy manner. Bhopal already had an Integrated Command & Control Centre (ICCC) established under the Smart City Mission. It converted it into a 24X7 COVID war room.
ICCC: The COVID War Room
The ICCC Room is being used to counter the challenges on all fronts. ICCC has deployed more than 100 officers and employees in three consecutive 24 x 7 shifts. The city aspired to fight this tough time and make the most use of ICCC.
The ICCC is using data to:
Maintain live COVID dashboard
Monitor patients with foreign or local travel history
Geotag the home quarantined
Determine and geofence containment zones
Deploy Rapid Response Teams (RRT) and Mobile Action Units (MAU)
Manage queries and medical emergencies through integrated helpline
Providing telehealth facilities
Coordinating with Municipality Kitchens and Food Distribution Teams
Monitoring home quarantined through GIS
A list of 725 passengers who had foreign travel history was provided by the State Government. All of them were registered with "Sarthak" app issued by the Government of Madhya Pradesh and had been home quarantined.
These citizens were listed, and their location mapped on GIS. Every day, information about their health and needs was collected and met from the control room and updated in the software. As of date 11,354 citizen's data is registered on the Sarthak dashboard.
Determining Containment Zones
Households of COVID positive patients and their high-risk contacts are geotagged, and 200 m as well as 1 km buffer zone is prepared through GIS. Based on this information, barriers are fixed, and the prohibited area is declared as a containment zone.
Bhopal- Covid Dashboard
Dedicated Website for Bhopal
A website is used for monitoring the Allied Response Team which ensures that the team is continuously present on the field. All the 79 ward officers are geofenced ward wise i.e. their attendance would be marked as present only if they are present physically at their designated ward.
Lockdown monitoring
Real Time Tracking of individuals entering the city: The lockdown was strictly followed by the Bhopal administration. Entry-exit points of all city boundaries were sealed. Check post points were prepared from place to place. A Google form was provided to teams deployed at various check posts which reflects real-time data of citizens entering through the borders of Bhopal. Under special circumstances, the health of a person visiting the city is prepared and their health continuously monitored. They have also been in touch with the Corona War Room.
The Integrated Traffic Management system of Bhopal Smart City, installed at 30 junctions of Bhopal city, was utilized during the curfews.
Tracking individuals with local travel history: A self-declaration is being taken from all citizens of Bhopal city to register their local travel history (from 10th March 2020) with travel date and mode of travel along with symptoms (if any). This list is being bifurcated into various zones ward wise and sent to RRT's for surveillance. They are being kept under surveillance from ICCC as well. Till now 18,108 people have sent their responses through calls and Google form.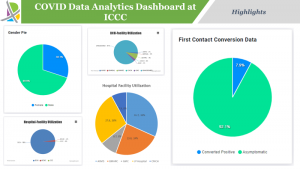 Helpline
To overcome the pandemic, Bhopal Smart City Development Corporation Limited (BSCDCL) has integrated the State Helpline of Health '104' and CM Helpline '181' through SWAN.
The control room at ICCC is bifurcating calls into 8 categories as Type "A, B, C, D, E, F, G and H" as designated by the state. Through the PRI system the city has 10 helplines with the facility of recording calls.
Calls which require immediate medical attention are transferred to the Medical team who are in the same premises 24×7. Till date 40000 complaints/calls have been registered,out of which 38000 complaints have been satisfactorily closed.
Helpline and Tele-Counselling of Citizens
A 24*7 helpdesk has been setup at ICCC. The City government has taken a lead to form a "City Level Corona Combat Team", with assigned roles and responsibilities. Multiple
Helpline Nos – 104 (Medical Helpline), 181 (CM Helpline), ICCC Toll-free Numbers, Whatsapp Numbers have been displayed through various channels across the City and publicized using FM, Social Media and related channels. All the grievances addressed through various modes are being routed to CCC. The Grievance Response team constitutes operators, heath officers and resident doctors. The Operator Manuals have been printed and published, while the operators are being trained according to well-defined SOPs.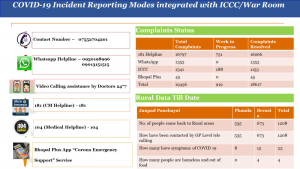 Bhopal Smart Surveillance: COVID-19
BSCDCL developed a platform to cater the huge data coming from various sources and converging into the ICCC. In this system all the complaints/information which are being captured either through Helpline number, self-declaration information via Google forms for travel history, 14 check post information of Bhopal is being brought under a single link. With the help of this link if any complaint is entered in the system real-time SMS goes to the concerned Rapid Response Team (RRT) for respective action. Also, if any food complaint is received in the portal the same information gets transferred to the respective DE of Municipal Corporation Bhopal. The concerned RRT / DE are enabled to check the number of complaints pending and the complaints which were resolved by them.
Target Issues:
Reduction of manual exercise for data entry
Real-time data entry
Integration of all resources in 1 common platform
Real time assignment of issues to respective RRT
Timely disposal of issues
Integrated tracking of issues with escalation
One point stop for citizen services during COVID
Making available to the citizen various government circulars on COVID 19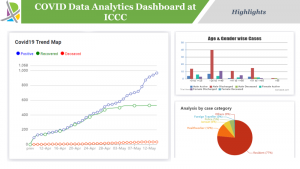 Impact and the road ahead
The ICCC was hence recommended to be leveraged by the authority as "COVID Combating Center" for the District and State Operations. The ICCC was already equipped with required infrastructure like call center facility, workstations, video walls, war room, video conferencing facility and many more.
The district authority has been able to create, develop and supervise the Standard Operating Procedures, Implementation Framework, Monitoring & Controlling Strategy for the various technological interventions at ICCC including Tele/Video Counselling of the Citizens, Integration of all the helplines into a single system, Creation of Single Dashboard for incident reporting and analysis, Information Dissemination Using Variable Messaging Displays & Digital Billboards, Public Address System communication for enhanced citizen connect, Essential Service Tracking through ICCC, Monitoring of traffic movement by ITMS, Sentimental Analysis via social media accounts.
City has also developed "Corona Incident Reporting" service through Bhopal Plus Mobile Application.
A major milestone was the implementation of a dedicated application at ICCC for Management of "COVID 19 Patient Lifecycle". This includes reporting of suspected Patient, sample collection, testing, contact tracing, quarantine monitoring , triggers for city actions based on the sample test report etc.