Bhopal: An Intelligent Traffic Management System
December 3, 2019
Introduction
Bhopal, a city that has urbanized rapidly in recent years, has witnessed enormous growth in traffic volumes which have, resulted in several traffic problems in and around the city, such as traffic jams, increase in number of road accidents etc. Traffic congestion is a threat to the economic, environmental, social and sustainable development of a city and traffic management has always been an issue of concern for urban policy makers. Thus, the need of the hour is to reshape the transportation networks taking into account the rise in motorized vehicles as well as the aging and sub-optimal infrastructure available in Indian cities.
A need was felt to develop a smart traffic management system, which would aim at improving the efficiency and effectiveness of the traffic on city roads. As part of smart city initiatives, Bhopal Smart City Development Corporation Limited (BSCDCL) has taken up project for Smart traffic management – Integrated Traffic Management System (ITMS) which provides greater information to the authorities to proactively manage the ongoing traffic situation in the city. Free flow of traffic guided by various traffic apps, smart sensors, ensure shorter travel times, increased safety and security along with reduced emissions and noise. Technology equips transportation system to send right information at right time to traffic planners and commuters. Real-time data available about traffic on roads and congestion helps planners and commuters to react and plan their trips accordingly. Technological integration into the transportation system also benefits in predicting and analyzing the traffic to avoid congestion and gridlocks on the roads, thus making commuters' life more enjoyable, stress free and comfortable.
The ITMS services include strengthening of four key areas of traffic management & road safety within the city:
Develop a sense of order on the roads by efficiently prosecution of traffic violators and traffic law enforcement
Enhance Situational Awareness of existing traffic conditions on real time basis
Develop ability to assimilate and Analyze Real Time Traffic Information and historic trends to support decision making on traffic management strategies
Create linkages to support Information sharing through traffic controllers, Variable Message Signs, Public Address (PA) systems etc.
Key Components of the System include:
Automatic Number Plate Recognition (ANPR) System
Red Light Violation Detection (RLVD) System
Speed Violation Detection System
PA System
E- Challan System
Develop Dashboard at Smart City Command Center and control room along with TMC
Under this project, traffic junctions are being designed to bring traffic discipline and any violation to it punish offenders through its automated E-Challan system. Bhopal is the first Smart City to introduce automatic e-challans at 30 zero tolerance junctions. ITMS dispatch automatically E-challans through its E-Challan system to traffic rules violators, crowd control, criminal acts and riotous situation footages in the city which are captured and transmitted automatically to the ITMS command control center for initiating rapid action by the security forces. Bhopal smart city and city traffic police has launched website https://echallan.mponline.gov.in/ui/common.html for the online payment of fine, user can also pay challan fine through Bhopal Plus City App. To know whether one has been fined for any offence or not, one has to enter the vehicle number.
All traffic signs and public places of the city are being examined by as many as 300 CCTV cameras installed. CCTV footage being traced to the number of theft vehicles and road accident by taking video clips and capturing photographs. For vehicle theft vehicle, 100 incidents and 50-road accident have been captured so far.
Red Light Violation Detection System
RLVD is a mass surveillance system that automatically captures the image of vehicle violating the traffic rules. RLVD automatically captures images of vehicle from backside with license plate numbers and performs OCR (optical character recognition) on images to read the license plates on vehicles. It continuously monitors the traffic signal, and camera is itself triggered by any vehicle passing over the sensors at specified time after signal has turned red. Alerts are typically sent by mail or SMS to the owners of violating vehicles, based on review of photographic evidence.
Automatic Number Plate Recognition (ANPR)
In many existing video surveillance implementations for traffic management, in India, a control centre staffed with monitoring personnel manually scan the output from the surveillance cameras to spot infractions and identify the vehicle. Automating this activity, using an Automatic Number Plate Recognition (ANPR) system will result in a much larger identification of traffic rule violations, within a shorter time-frame, and without having to increase number of monitoring personnel. The schematic below provides a typical system architecture of an ANPR implementation.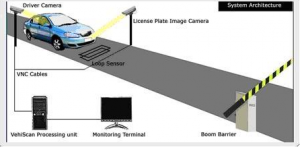 No Helmet Detection
The project aims to provide total safety for bike riders. Recently although helmets have been made compulsory, people still drive without helmets. Bhopal has recorded second maximum number of road accidents deaths every year since 2011. The city turned out to be the most injurious for commuters in 2015. Road accidents in Madhya Pradesh claimed 9,758 lives in 2015 compared to 9,292 fatalities in 2,01,435 lakh two-wheeler riders, which includes 500-600 accidents every year out of which 300-400 are fatal. Road accident victims in Bhopal during 2015, included 417 males and 54 females. Due to rise in road accidents, it has now become necessary to generate a system to limit accidental deaths.
Key features of the No Helmet system are:
This is the FIRST ever "No Helmet Detection" technology in the market
First Company to develop this new innovative technology
Made in India to address Indian Challenge
First "Indian" Deep Learning & AI framework
Powered by AI, Computer Vision, Pattern Recognition & Intelligent Video Computing Platform
Challan Generation process:
The system also captures the license plates of the vehicles that appears in camera field of view.
Number plate of every vehicle is stored in database and can be searched at any later point of time.
On detection of any vehicle that is in "suspected vehicle" list, an alert signal is generated at the control room.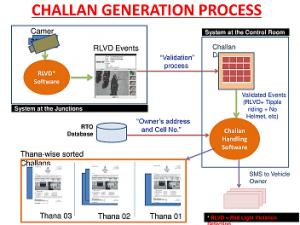 Under the RLVD systems, the team installed the ANPR cameras. These cameras also called as 'evidence camera' read signals. So when the signal turns red, it makes a virtual line called 'stop line'. When a vehicle crosses the stop line in the red-light signal, it immediately captures the image of the 'Red-Light Violation' event. It captures the vehicle and signal location. The software is developed in such a way that it integrates with the Motor Vehicle Department's website. Subsequently, challan is prepared from the collected data.
ANPR cameras function for 24 hours, and thus they are able to maintain a database of all the vehicles passing by on this route. The cameras not only capture the images of the number plate but also read them. If there is any inaccuracy while reading the number plate, the vehicles passing through the 'field of view' can capture number plate of all the vehicles. As a result, the images come out very clear, and generate report based on the data the requires.
The offence can be detected via:
RLVD System
Traffic light violation
Capture license plate of vehicles violating traffic rule
Traffic signal monitoring and raise alarm if signal doesn't change after assigned time
Vehicle stopping on road or vehicle going wrong way
Over Speed Monitoring
Vehicle over speed detection
Speed violation detection with evidence
Separate speed limits for 2 & 4 wheelers
Camera Based System
Camera + Radar Based System
No Helmet Monitoring
Detection of no helmet
No helmet of driver
No helmet of companion
Helmet standard training
Classification & Statistics:
Classify 4 wheelers, 2 wheeler, auto rickshaw, heavy vehicles
Statistical analysis for each class
Decision Support Tool
Artificial Intelligence based framework
E-Challan:
Generate challan for validated violation
Integration with RTO database
Auto email challan
Challan online payment portal
Challan payment tracker
Sample Traffic Violations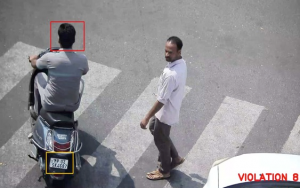 Driving without helmet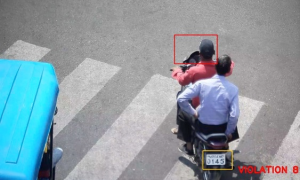 Driver wearing cap but not helmet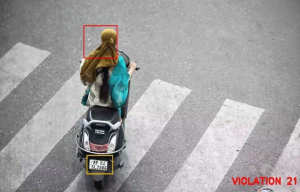 Driver wearing scarf but without helmet
Driver with helmet but passenger wearing only scarf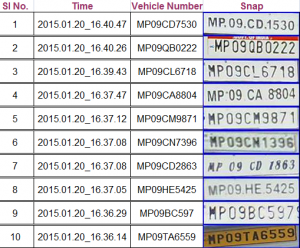 ANPR Database
Suspected Vehicle Detection
Outcomes/Impact
30 ITMs Junctions
Number of cameras- 300+
More than 80 lac challans has been generated after go live of the implementation
Revenue collection – 1 crore+
It has led to more discipline at the junctions.
Challans are now generated with evidence.
Database of vehicles is being generated and will be ready for further use.
This is helping in complete surveillance of a junction.
Improved capability to track multiple traffic violations. Eg. Helmet, triple riding, wrong number plate etc.
Helpful in tracking the movement of target vehicle.
Helped in direct communication at junctions from control room.