Analyzing Data on Foreign Tourists' arrival in India till 2019
July 5, 2021

India is one of the popular tourist destinations in Asia. Tourists from all over the world come India to experience cultural diversity and rich heritage. The enchanting backwaters, snow cladded mountains, architecturally impressive temples and landscapes make India a beautiful country.
India saw a significant rise in foreign tourists' arrival in last 9 years from 6.3 million tourists in 2011 to approximately 10.93 million tourists in 2019. The figure below shows the trend in India's FTA (Foreign Tourist Arrival) from 2001 till 2019.
Source : https://data.gov.in/resources/foreign-tourist-arrivals-ftas-arrivals-non-resident-indians-nris-and-international-2
Who Visited India most in 2019?
India attracts most of the foreign tourist from Bangladesh, about 23.6% of total share in 2019 (2.57 million tourists), followed by USA and UK with 13.8% and 9.2% of total share. The number of tourists increased from 1.51 million in 2018 to 1.45 million in 2019, and tourists from UK increased from 1 million in 2018 to 1.02 million in 2019.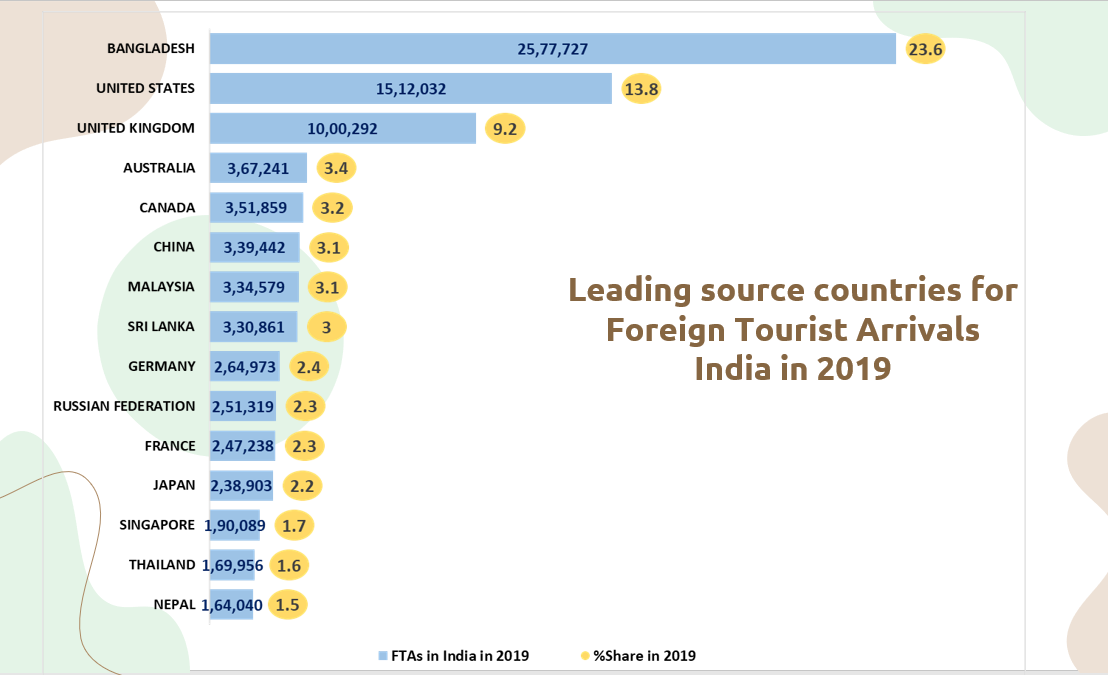 Source: https://data.gov.in/resources/top-15-source-countries-foreign-tourist-arrivals-ftas-india-during-2018-and-2019
Which is most active tourist Age-group?
Tourist between age group 35-44 years have visited India the most in 2019, contributing 21.3%of the total share, followed by tourists of age-group 45-54 years who contributed 19.8% of total share.
Source: https://data.gov.in/resources/age-group-wise-foreign-tourist-arrivals-ftas-india-2001-2019
Note: Ministry of Tourism has shared data of India's tourism till 2019 on Open Government Data Platform. Click on the link below to access all the data resources: Tourism Statistics of India